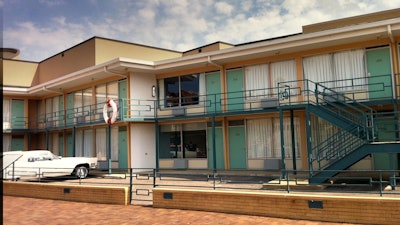 A Smithsonian exhibit, Solidarity Now! 1968 Poor People's Campaign, will begin a national tour in Memphis, TN on May 14.
The June 1968 Poor People's Campaign was one of the last acts organized by Rev. Dr. Martin Luther King, Jr. before his assassination on April 4 at the Lorraine Motel in Memphis, now home to the National Civil Rights Museum, where the tour will begin.
In 1968, more than 25 million Americans of all races and creeds were living in poverty. For six weeks, thousands of impoverished individuals and protestors camped in the space between the Washington Monument and the Lincoln Memorial in D.C. They called their temporary home Resurrection City.
As part of the exhibition, visitors will be able to view a 3D model of the encampment and its plans for social services, photographs and protest signs, and listen to oral histories and audio recordings from the time. The tour, organized by the Smithsonian Institution Traveling Exhibition Services (SITES) and the National Museum of African American History and Culture, will hit ten major U.S. cities through July 24.