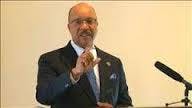 South Carolina State President Thomas Elzey says he is confident his school will overcome its challenges.South Carolina State University received a lifeline Wednesday in the form of a $12 million loan from the state as the result of approval from the Joint Bond Review Committee.
The school, the state's only public historically Black college, has been operating at a $10.8 million deficit. The money is owed primarily to vendors. Dogged by governance issues and the financial shortfall, S.C. State had been put on probation by an accrediting body in June.
It had been kept afloat by a $6 million loan from the state last spring. The Orangeburg school ran into the financial crunch when hit with declining enrollment and decreased state and federal funding.
According to The Times and Democrat, the state board, which approved the latest loan by a 6-2 vote, stipulated that it is to be repaid over a three-year period and that the school has to maintain a balanced budget.
Loan approval never was considered a certainty. Some state legislators had questioned whether it was time to either shut down the college or have it become part of the University of South Carolina system.
"It's a very difficult position we're in," S.C. State President Thomas Elzey told The State on Monday. "(But) I have faith that the university will get through this."
As a part of the loan request process, the school had submitted a 12-page plan that included proposals to boost enrollment and fundraising and conduct a profitability study of its academic departments. There are also plans to cut administrative staff and campus police as part of cost-saving measures.