After Dr. Antonio Pérez steps down from his position as president of Borough of Manhattan Community College (BMCC) later this month, he will focus his energy on further developing his app, HiddenChalk.
During his time as college president, Pérez noticed that many students were entering college unprepared for their coursework and exams. He believes that educational institutions often use the same techniques over and over again but never look for a different approach to help students succeed. To Pérez, the different approach to learning can be found within student's cellphones.
"My approach in creating this app was that I realized how much time students spend on their telephones and that their telephones are always with them," says Pérez in an interview with Diverse. "For example, they might forget their textbook or they may forget their notebooks, or their pens and pencils, but they never forget their phones. I'm providing them with the opportunity to have it all at their fingertips."
As he watched student's cellphone patterns, Pérez also noticed that students played a lot of games. Thus, he initially tested out the use of educational games within HiddenChalk, which he started developing four years ago. He even added prizes as incentives but found that students would rather just finish remediation as quickly as possible without all of the extra features.
"I found that when it comes to remediation, students said to me, 'we just want to get this thing done and we want to get out of remediation,'" says Pérez. "So I focused more and more on that with my developers and created, I believe, a solution for some of our students who don't need to enroll in remediation courses. Or if they do enroll and keep on failing, this app would provide a supplement for them and they finally do pass."
HiddenChalk, which is available to both iPhone and Android users, is in the beta testing process with a select group of students from BMCC. The students participating in the beta tests are enrolled in remediation courses and have voluntarily opted to use the app for additional help. Right now, however, the coursework on the app and the actual remediation class itself are not synchronized.
"The feedback that we've been getting from students who have been using HiddenChalk have been phenomenal," says Sunil Gupta, who is the dean of the Center for Continuing Education and Workforce Development at BMCC and who has also consulted with Pérez about HiddenChalk. "The students who've passed the remediation class said that they could have taken the math course through the app without even taking the actual course itself. We were pleasantly surprised. We thought it would be effective but it has proven to be even more effective."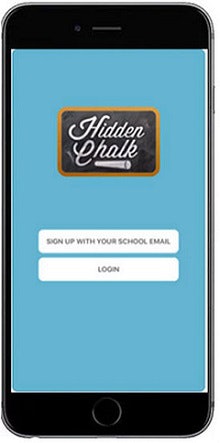 Within the focus groups, Pérez has conducted surveys which ask students about the app and how helpful they've found it to be.
"The best engagement I have is with the students as they tell you, in essence, what they want and what they need," says Pérez. "Based upon that is what I've created within the app so that they are able to use it in a way that will be helpful to them."
Currently, HiddenChalk is math-driven and is solely focused on algebra. Eventually, HiddenChalk could add reading, English as a first language and writing features.
"[Algebra] is the biggest hurdle for many of the students who come in with deficient basic math skills," says Gupta. "Somehow, there is some spotty learning in K-12 with math. Without that foundation, it becomes tremendously challenging for students to go through what I call terminal remediation. The students go again and again in these live classes which are helpful but not as impactful as we are seeing with the app."
HiddenChalk is set up where students can take notes, bookmark certain topics, record audio, save their work and come back to it later to study. Additionally, it provides students with a chance to have some learning independence as the app's courses have no time limit. Thus, it is possible for students to jump around to areas that they are most uncomfortable with rather than practicing topics that they are already proficient in.
Pérez's focus with HiddenChalk will mainly be on community colleges across the country due to their high rate of enrollment in remediation courses. Around 80 percent of students at community colleges need to enroll in remedial courses compared to 30 percent at a four-year degree university, according to Pérez. His upcoming target audience for HiddenChalk will be in the Dallas County Community College District.
According to the Public Policy Institute of California (PPIC), remedial courses, also known as developmental or basic skills education, generally cover high school material and are aimed at students deemed unprepared for college-level work. In PPIC's new report, it was found that the more remedial courses that students are required to take, the more likely they are to drop out before they get to credit-bearing classes.
The name HiddenChalk was created while Pérez was sitting in front of a seafood restaurant in Rhode Island.
"I'm watching the woman write the items for sale that day on the chalkboard and I was trying to come up with a name that I could find a '.com' for," says Pérez. "The learning takes place on the phone and it's hidden. The chalk is hidden but everything is there for you. It was trial and error coming up with something that would fit but also send a message about what the app was about."
One problem that Pérez is currently facing with HiddenChalk is that students want to use the app without the need for Wi-Fi or data usage as they don't always have access to it.
"The problem is that they can download the files but the files are so large," says Pérez. "So I'm working with my developers to find a way to condense the files so that they could then just download it and not have to worry about having internet service."
In addition to making a major impact on remediation, HiddenChalk could take away some of the financial burden of remediation course costs.
"[The app] is an organically designed response to math remediation," says Gupta. "I think the motivation is for students who have to pay for courses or use their financial aid. That is a big challenge that we see where students can't persist anymore because they've burned a large chunk of their financial aid before they've even gotten to their core courses."
In terms of funding, Pérez is still calculating the licensing fees. However, he hopes that eventually some foundations, who are interested in the app, could pick up some of the fees associated with it.
If HiddenChalk is successful, Pérez wants to put the money back into philanthropic causes, especially one that relates to education.
"Obviously I am very concerned about students who cannot afford to go to college," says Pérez. "So that would be a focal point is making it available to as many students as possible because I know what it means to have a college education. I know how it impacts our students and I feel like sometimes our students just need a little help and I want to provide that to them."
Pérez is looking to beta test HiddenChalk with as many colleges as possible. If your institution is interested, contact him directly at drtonyperez@gmail.com.
This story appeared in the July 26 issue of Diverse.