The Hispanic Association of Colleges and Universities (HACU) has announced the launch of a new fellowship program that seeks to increase the number of Hispanic leaders in presidential positions across higher education.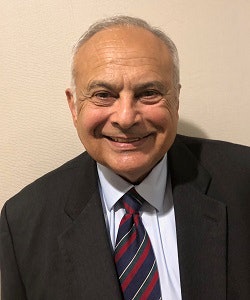 The HACU Presidential Leadership Academy, or La Academia de Liderazgo, will prepare vice presidents and other senior academic administrators for executive leadership roles at a range of higher education institutions, but particularly Hispanic-Serving Institutions (HSIs) or emerging HSIs. Selected fellows for the one-year program will participate in a series of webinars and three seminars, the first of which will coincide with the HACU Annual Conference in October 2019.
"We'd like to believe that the quality of the experiences that students have at institutions are enhanced whenever they have the opportunity to interact with folks who come from backgrounds similar to theirs in terms of life experiences," said Dr. Tito Guerrero, program director of La Academia. "We think that goes all the way to the top, to the president or chancellor of a university."
HACU officials note that La Academia is a "direct response" to the declining rate of Hispanic university presidents even though there has been an "unprecedented growth" in Hispanic college student enrollment. Between 2006 and 2016, the rate of Hispanic University presidents dropped from 4.5 percent to 3.9 percent.
"Soon, if not already, 1 in 5 college students will be Hispanic, yet it is unlikely that many will enroll in a college or university with a Hispanic president," a HACU overview said.
As a result, selected La Academia fellows will come away from the intensive program with a better sense of what they are committing to when they become a university president, chancellor or CEO and a stronger network of contacts to support their leadership development towards the presidency or chancellorship, Guerrero said.
What sets the program apart from other leadership development opportunities is the access to mentorship from more than a dozen nationally recognized current and emeriti presidents and senior-level administrators who have a combined 100-plus years of experience, HACU leaders said. Program mentors will support fellows' leadership development beyond the three seminars.
"We hope that we will help people prepare in a more global and sensitive way to all of the different things that an individual might have to contend with as president," Guerrero added.
Prospective La Academia fellows must be nominated by the president or CEO of their affiliated institution, and they must submit a completed application, a current Curriculum Vita and two letters of recommendation that speak to their talent, responsibilities and future leadership potential. The application deadline is April 5, 2019.
"We'd like for it to be an individual who's pretty much at that point in his or her career where the next step would seem to be becoming a president or a chancellor or a CEO of an institution," Guerrero said.
"We expect the majority of participants to come from Hispanic-Serving Institutions and emerging HSIs," said HACU president and CEO Dr. Antonio R. Flores. "The sessions are strategically woven into settings that provide substantial networking opportunities in the Hispanic higher education community, including an international component to provide a broader perspective of challenges and opportunities beyond the U.S."
The first two week-long seminars will be coordinated with activities of the HACU Annual Conference in Chicago and the HACU Capitol Forum in Washington, D.C. The final international seminar will take place in late spring or early summer 2020.
La Academia seminars will focus on the concept of institutional diversity, highlighting the notion that "we are a nation of immigrants," Guerrero said. Program leaders will also talk about working fluently within "macro and micro environments," such as how the university engages with the community or handles the dynamics of shared governance with internal members.
"The list goes on," Guerrero said.
"We'll want to prepare people for dynamics like crisis management, issues to be aware of with respect to collective bargaining, athletics, freedom of speech concerns," he said. "We also want to expose the folks to the dynamic of managing the purse strings. A president or chancellor or a CEO does need to have a good sense of the financial dynamics that are associated with managing an institution."
A significant component of La Academia will be the fellows' development of a "Proyecto Transformativo," or transformative project, which would allow the fellow's affiliated institution to benefit from their participation in the program.
That project "could take a number of different forms," Guerrero said. "It could be interventions to help make an institution better at responding to, say, academic challenges that students may be experiencing. It may have to do with collaborative activities where institutions can build on their individual strengths to engage together in some important research."
"We really don't want to place too many parameters on it," Guerrero said.
Guerrero – who is a former vice president for the Middle States Commission on Higher Education and a past president of Cambridge College, Stephen F. Austin State University and the University of Southern Colorado – acknowledges that serving as president is like playing a game of dodgeball: you never know where things are going to come from, he said.
"I don't want to lead people to think that we're going to come up with a magical solution for every single problem," Guerrero said of La Academia de Liderazgo. "But what we hope to do is to prepare people and increase their confidence in their ability to solve problems as they emerge in their role as president."
Selected fellows and waitlisted individuals will be notified by May 31.
Tiffany Pennamon can be reached at tpennamon@diverseeducation.com. You can follow her on Twitter @tiffanypennamon.