With the Senate's 53-47 vote on Thursday, Judge Ketanji Brown Jackson has been confirmed as the 116th Supreme Court justice — and the first Black woman to serve on the highest court in the land. Jackson, 51, will be sworn in this summer. Several scholars and higher education leaders celebrate and reflect on this historic moment.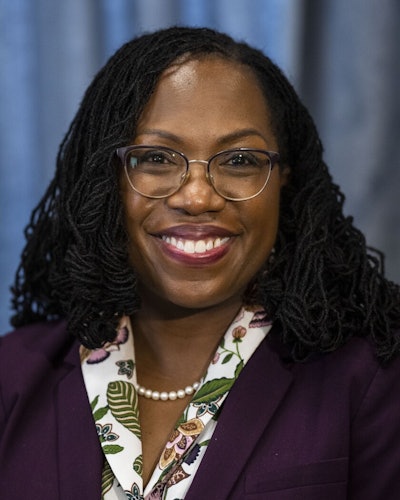 "I never would have dreamed of this happening in my lifetime," said Dr. Lolita Buckner Inniss, provost's professor of law and dean of the University of Colorado Law School.
All 50 Democratic Senators voted for Jackson's confirmation. Republican Senators Mitt Romney of Utah, Susan Collins of Maine, and Lisa Murkowski of Alaska joined in the vote. Vice President Kamala Harris, the first woman of color to be vice president, presided over the vote as head of the Senate. 
"I want to take a step back and say what an incredible American success story this is," said Dr. Gregory Vincent, professor of educational policy studies and evaluation at the University of Kentucky as well as the incoming president of Talladega College. "To see Jackson make history and do so with courage, commitment, and faith — every person should be inspired by her story."
On Monday, the Senate Judiciary Committee reached an 11-11 tie with Democrats voting for and Republicans voting against advancing Jackson's nomination to a vote in the full Senate. Democrats, expecting the tie, swiftly took a procedural step to release the nomination to a full Senate vote. 
"It's a very, very long time coming, and there could not be a more qualified individual to be confirmed to the court," said Renee Knake Jefferson, professor of law and the Joanne and Larry Doherty chair in legal ethics at the University of Houston Law Center. "This is not about partisanship or politics. This is a moment for us as a country to stop and reflect on the progress we've made in the promise of equality for everyone. This is surely a marker of that — and she will be a justice to help us continue in that long, ever-forward process."
Jackson served as a federal trial court judge for eight years and was confirmed last June for a seat on the U.S. Court of Appeals for the District of Columbia. Prior to being a judge, she had worked as a public defender. Jackson will be the first Supreme Court justice to have represented criminal defendants since Thurgood Marshall. 
Jackson graduated from Harvard Law School in 1996 and clerked for Justice Stephen Breyer, whom she will replace when Breyer retires this summer. Jackson taking Breyer's place will not shift the current ideological makeup of the conservative-majority court. 
Yet Inniss pointed out that her presence alone on the court will have an impact.
"Even though a lot of observers have said nothing will really change on the court, I do think that with Judge Jackson's ascension, we can expect the atmosphere to be different," she said. "I've seen this in my own career as a Black woman — simply being in the room to offer a perspective makes a crucial difference. It is important. And I think she will be an eminently fair, amazingly qualified justice."
But despite Jackson's many qualifications, she faced increasingly combative questioning from Republicans during her Senate Judiciary Committee hearing. 
"I think this was one of the most, if not the most, politicized Supreme Court confirmation hearings we've had," said Jefferson. "Many of the questions Jackson was asked had nothing to do with her actual confirmation to the court and seemed more like what one would hear at a campaign rally. But she has been confirmed, and that is what will last."
To Gloria Blackwell, CEO of the American Association of University Women (AAUW), the questioning that Jackson endured highlighted what Black women are often up against in their careers. AAUW is a nonprofit that advances equity for women and girls through advocacy, education, and research. 
"The way Jackson was treated, how she had to over and over again justify her integrity, it mirrored much of my own professional life as a Black woman: having to prove yourself while not being seen as the 'angry Black woman,' even when someone is criticizing everything about you," said Blackwell. "It was painful to watch. Yet Jackson demonstrated that she is poised and will be a fair, impartial judge."
One of Biden's campaign promises was to nominate the first Black woman to the Supreme Court. Blackwell noted that this intentionality carries another lesson for higher education leadership in efforts to become more equitable.
"He was keeping his word," said Blackwell of Biden. "We know that it had to be intentional for it to take place. I feel like that's the same for higher education — in order for women of color to advance, you need to recognize that it is the system that keeps them back."
Rebecca Kelliher can be reached at rkelliher@diverseeducation.com.