Men in camouflage descend the steps of a plane. The camera cuts away to the front of a large house where a soldier embraces his pregnant wife and picks up his son. Instrumental music swells in the background.
"It took extraordinary courage, sacrifice, commitment – and most of all, it took hope," says a male voice. "We want to thank all those men and women who served our nation and help protect our freedom. Thank you from all of us at ITT Technical Institute."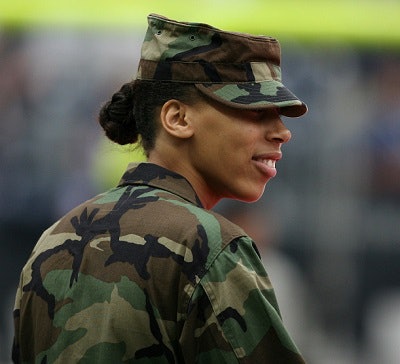 This was a 2010 commercial for ITT Tech, a for-profit college system that operated 130 campuses. In 2016, the school shut down, leaving nearly 7,000 veterans in the lurch.
Florida Democrat Rep. Dr. Donna Shalala proposed an amendment to the annual defense spending bill, the National Defense Authorization Act, which would audit for-profit colleges that enroll veterans while failing to meet Department of Education financial responsibility standards. It would require the secretary of defense to review how much Department of Defense Tuition Assistance a for-profit receives and to publish the results online. The goal is to make for-profit schools more transparent so service members can make more informed college decisions – and avoid situations like ITT Tech.
While the amendment enjoyed bipartisan support in the House of Representatives with 20 Republicans joining Democrats to vote in favor, it didn't make it into the Senate version of the National Defense Authorization Act. So, the amendment will now be considered by a conference committee composed of members of the Senate and House Armed Service committees.
"This is personal for me," says Shalala. "Every generation of my family has served in our country's military, and all have used their educational benefits. I know the value of a good education. I have seen it firsthand in my four decades as an educator and as a college president. Our veterans deserve better than policies that allow bad actors in our education system to take advantage of their service and their sacrifice."
For-profits have a reputation for aggressively advertising to service members and veterans because of a loophole in federal law. They are allowed to get 90 percent of their earnings from Title IV funding, which includes federal student aid. But 10 percent of their money has to come from somewhere else.
GI Bill funds and Department of Defense Tuition Assistance – money off-duty service members can use for educational programs – don't count as government funds under Title IV. So, enrolling service members and veterans is an easy way for for-profits to meet their 10 percent requirement, while dipping further into the federal piggy bank. For every veteran or service member, for-profits can enroll nine students paying with federal funds.
The 90/10 rule is supposed to be a "market test," says Tanya Ang, vice president at Veterans Education Success, because a reputable school should be able to attract some non-government funds. For example, Ang is helping her daughter pay for tuition at Pennsylvania State University because she knows the school will afford her daughter career opportunities. If no one is willing to pay for a school out-of-pocket, that's a bad sign – and it sets a bad precedent, she argues.
"No school should be federalized," Ang says. "If they're getting 100 percent of their funds from the federal government – or close to 100 percent of their funds – those are corporate entities that are federalized."
The omission of GI Bill funds and Tuition Assistance was an "oversight" that "put a target on the back of military-connected students," she says.
A main concern is that some schools mislead service members about the quality of their programs in their quest for extra federal funding. Meanwhile, Department of Defense Tuition Assistance often isn't enough to cover tuition costs, forcing veterans to "pay out of pocket or take out private loans" for programs with low returns, says Wesley Whistle, senior advisor for policy and strategy at the New America Higher Education Initiative.
Schools that mishandle their funding are also at a risk of shutting down, leaving veterans and service members without degrees.
"If you're a veteran who's coming back into the workforce and you're transitioning back into civilian life and having to deal with navigating your school just closing abruptly, that's not easy," Whistle says.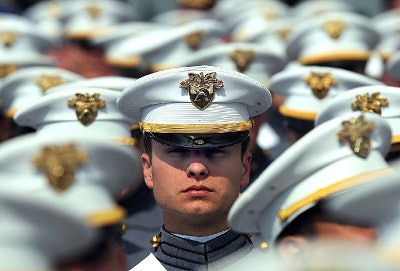 Captain Lory Manning, the senior policy fellow for the Service Women's Action Network, points out that many veterans and service members are first-generation college students who might not know how to assess their school options.
"Sometimes they don't have the family support to look at quality, to understand what is or isn't going to be acceptable to a civilian employer," she says.
In July, 26 different veterans groups and higher education organizations sent a letter to members of the House and Senate Armed Services committees advocating for the amendment.
Manning's organization was one of them. She formerly served as commander of the Naval Telecommunications and Computer Station, where she oversaw GI Bill and Tuition Assistance programs. When she was on active duty, she knew of good for-profit schools, she says, but some of them were predatory. It's important to her to ensure that veterans and service members are "getting what they think they're getting, that they're getting an actual education for the tax dollars that are being spent."
There's debate over whether the amendment goes far enough. After all, it includes no repercussions for schools that heavily rely on veterans and service members, other than a report online.
Dr. Mary Keller, president and CEO of the Military Child Education Coalition, says her organization supports the amendment as is because "good data" leads to accountability.
"Why jump to reward or penalization if you don't have information?" she says. "Let's just shine a light."
Keller hopes the Shalala amendment will clear the "fog" around college decisions for military families. She says holding for-profit colleges to financial responsibility standards will make an important life choice easier for veterans and service members.
"When you go down the cereal aisle in the grocery store, oh my word, there are so many choices," she says. "They can't say this cereal producer gets to decide calories this way, and this cereal producer gets to define carbohydrates that way. No, there's a standard, and everybody has to be clear about that standard."
For Whistle, the amendment is a "step in the right direction" but "it definitely doesn't have teeth."
He'd like to see the 90/10 loophole fixed, one of the goals of the PROTECT Students Act, a bill now in the House and Senate as a part of the reauthorization of the Higher Education Act.
Whistle also wants the Department of Education to apply more rigorous financial responsibility standards, which he described as "outdated" and missing "timely and accurate information."
But Whistle appreciates that the amendment applies public pressure to for-profit schools and can "initiate an open door for better information-sharing and coordination" between the Department of Education and Department of Defense. His organization also joined the letter in support.
Schools from the for-profit sector publicly opposed the amendment. The American Association of Cosmetology Schools (AACS) sent a letter of its own to the conference committee, arguing that Shalala's amendment "serves to target proprietary schools" instead of focusing on "universal transparency, since it would only audit for-profits, not all schools that fail to meet financial responsibility standards."
"The issue at the heart of Rep. Shalala's legislation is the attempt to shield nonprofit schools from the same transparency mechanisms required of proprietary schools," AACS Executive Director Kathy Chow wrote in a statement to Diverse. Cosmetology schools "are mostly family-run, small businesses. We're simply asking for a level playing field so we can continue to serve our students and provide pathways to careers in a growing and in-demand industry."
But Manning says for-profit schools are under scrutiny for a reason.
"This didn't come out of nowhere," she says. "Nobody ever set out to target for-profit schools. But some of them have had shoddy track records. If there's not a problem with a particular for-profit school, there's not going to be a problem with showing their books. What are they afraid of?"
This article appeared in the September 5, 2019 issue of Diverse.