Howard University partnered with Blue Star Families (BSF) and The Chamberlain Project to host a panel symposium to commemorate the 75th Anniversary of Executive Order 9981, which led to the 1948 integration of the U.S. military.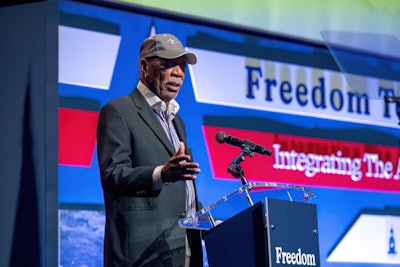 BSF is a non-profit supporting military-connected families, and The Chamberlain Project is a program connecting retiring service members to higher ed teaching roles.
The symposium, "Freedom to Serve: Integrating the Armed Services," took place Jul. 26 and brought together notable guests such as actor and Air Force veteran Morgan Freeman; Secretary of Veterans Affairs Denis McDonough; and Secretary of the Navy Carlos Del Toro; astronaut and Ret. Major General Charles Bolden; Howard President Dr. Wayne A. I. Frederick; and Willetta Brown, daughter of Wesley A. Brown, the first African American graduate of the U.S. Naval Academy in 1949.
"Civic responsibility and civic rights go hand in hand," said BSF CEO Kathy Roth-Douquet. "By telling the story of how military service interrelates with civil rights and strengthens our country and home and abroad, we are telling a positive story of the people who serve and military service itself — which is particularly meaningful now, when recruiting is stumbling. We are excited to highlight many diverse heroes, and the way ahead."
The event featured discussions about the executive order's historical impacts, future implications of diversity on military service, and the relationship between the civil rights movement and military integration.
"Since the U.S. was founded, Black people have fought in uniform for our country, while also fighting for their own freedom and civil rights," said Carlandra "CT" Moss, director of the BSF Campaign for Inclusion. "In a lot of ways, Executive Order 9981 helped lay the foundation for the civil rights movement in the 1960s by recognizing the sacrifices Black servicemen made to secure our nation. This symposium not only allows us to reflect on our history and the important strides the Black community has made in building our military, but also to talk through what needs to happen to make military service more diverse and inclusive for future generations."