To help military service members prepare for the transition into college, Cornell University recently hosted a weeklong academic boot camp as part of a nationwide initiative.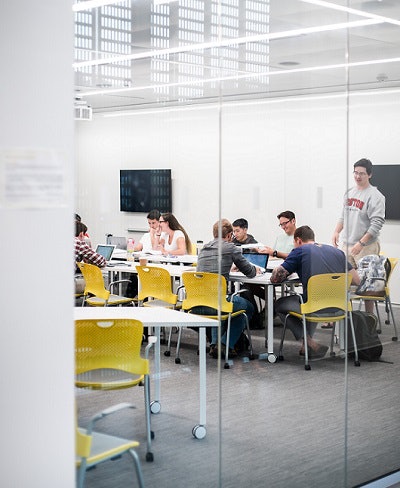 The program, Warrior-Scholar Project (WSP), offers free college preparatory classes to current and retired enlisted service members. It gives military members the opportunity to gain some college experience, skills and mentorships before enrolling in a higher education institution.
"Our whole mission is for those veterans who want to go back to school," says WSP chief executive officer Ryan Pavel. "We're going to help them get there. And it's not just reading, writing or arithmetic. It's the cultural change that is going to be from the military to academia."
WSP was launched at Yale University in 2012 by students Chris Howell, Jessie Reising and Nick Rugoff. The original group of veteran participants consisted of nine individuals.
From there, WSP became a nonprofit organization and expanded to more colleges and universities across the country. Relationships with schools to host WSP were created through donors or individual connections.
Two types of curricula were created for the program, including a one-week liberal arts model as well as a two-week model that focuses on liberal arts, science, technology, engineering and math (STEM) courses.
Cornell, which uses the liberal arts model, is one of 17 colleges and universities to host WSP on their campus. The school has been involved in the initiative since 2015.
"Cornell has a long history of supporting the military services through our veterans program, as well as our long-standing ROTC program," says Dr. Katherine McComas, the vice provost for engagement and land-grant affairs at Cornell. "So this opportunity, particularly to help veterans get through the demands of the classroom, is something that is very much in sync with the values of our university."
Since its establishment, 946 veterans have participated in WSP. Program alumni come from all branches of the military and areas of the country.
WSP serves active-duty service members who are within two years of transitioning into higher education, student veterans early in their pursuit of a bachelor's degree and veterans with an actionable plan to attend a four-year school.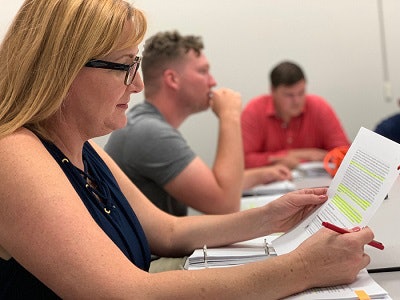 "I recommend this to all transitioning military members," says Cornell WSP participant Alex Gerberry. "This program provides everything from how to be a better student to using your educational benefits. I am in a much better situation after attending WSP."
For many nontraditional students such as veterans, the transition process creates a number of challenges. Veterans come into the classroom with different life experiences and often are older than their classmates.
According to the National Veteran Education Success Tracker (NVEST), 38 percent of veterans complete their initial degree between the ages of 25 and 29. Comparably, only 5 percent complete their degree at age 21 and below.
"Transition is the number-one time that veterans identify experiencing PTSD, other related mental health issues or financial issues," says Pavel. "A very, very pivotal point in a veteran's life is the transition."
Thus, WSP was designed to help ease those major barriers.
In July, 13 students participated in Cornell's WSP program. The offered classes were full days and did not count toward academic credit.
During the morning sessions, the curriculum focused on seminar discussion, analytical reading skills and college-level writing. Discussions focused on citizenship, the role of public service, freedom, equality and democracy through interdisciplinary seminars. Readings about the Declaration of Independence and Constitution were frameworks for discussion.
At the end of the week, participants pivoted to discussing how their own specific roles and experiences can be used to strengthen democracy.
"This year, quite a few of the scholars said, 'We've never had time to think of this before,'" says Dr. Jamila Michener, assistant professor of government at Cornell. "It's really interesting that many of them have devoted substantial chunks of their lives to serve this country without really thinking about the state of the country, politically, democratically or how they can be a part of improving or enhancing that."
The seminars were taught by Cornell faculty including Michener, and faculty from history, humanistic studies and the law school.
The afternoon courses focused on developing tactical skills, including note-taking, time management, the college transition process and how to prepare for transitional challenges as a nontraditional student.
Through the WSP program, participant David Patch says that in addition to gaining experience at a higher education institution, he completed rigorous coursework at an Ivy League school.
"Universities like Cornell can be intimidating towards a veteran who did not make the best of grades in high school," says Patch. "WSP offered the priceless opportunity to immerse myself in the culture of an Ivy League school. I also wanted to gain a new perspective on higher education and sharpen my reading, writing and studying skills."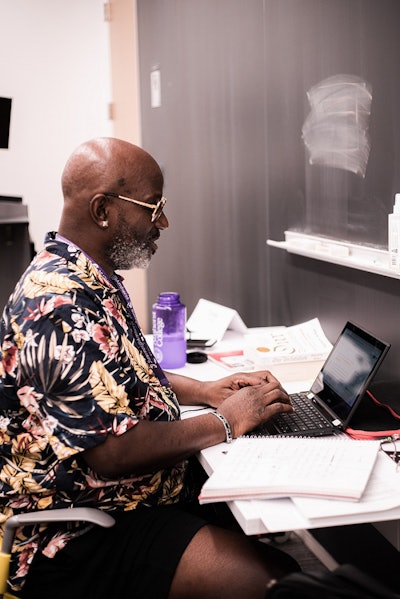 In terms of next steps for participants after the program, many active-duty military members will continue to serve but will also embark on the college application process.
Meanwhile, many of the retired service members are readying themselves to begin college this fall.
Joseph Fox chose to enroll in the Cornell WSP program because he will be attending Georgetown University this semester as a third-year transfer student.
"I knew that coming into Georgetown, I will be expected to meet the grade-level requirements despite having never been enrolled anywhere as a traditional student," says Fox. "I wanted the time at Cornell to prepare me, or at least my expectations, for the rigors of elite higher education."
Not only does WSP help with the transition period for veterans, it also allows participants to build relationships with professors as well as other military members.
In addition to the Warrior-Scholar Project, Cornell has implemented other initiatives to help veterans.
Back in 2017, when veteran enrollment was at 24 students, Cornell provost Dr. Michael Kotlikoff announced his goal to enroll 100 military members over the next three years into the university's undergraduate programs.
"This goal is part of the efforts of the university to continue to fulfill our 'any person' legacy and leverages Cornell's commitment to markedly enhance undergraduate financial aid," says Kotlikoff. "Together with recent commitments to support veterans once they are on campus, we hope to significantly increase the opportunities for individuals who have served in uniform."
Cornell also established the Veterans Summer Bridge Program, which aims to encourage military service members to pursue an education and earn a degree through the university.
The program is open to both transfer students and first-year applicants. Military students planning to enroll at Cornell's College of Agriculture and Life Sciences, College of Arts and Sciences, Cornell SC Johnson College of Business and School of Industrial and Labor Relations are eligible for the program.
Chosen candidates will receive three tuition-free, credit-bearing courses over a six-week summer session prior to the start of the fall semester. The courses focus on critical thinking and strategies for college success, according to the program's website.
WSP and Cornell's other veteran programs are critical in promoting viewpoint diversity among students on campus, officials say.
"It's important that veterans realize that they have a very important voice and it needs to be heard by their colleagues in college," says Pavel. "Their perspective is valuable, it is very important, it is part of the diversity that campuses are seeking. We want to be a part of bringing that perspective and that voice to college campuses, to bring it into higher education."
This article appeared in the Sept. 5 issue of Diverse.