As a way to provide veterans, active military members and their spouses with resources, support and workforce training, Hillsborough Community College (HCC) has established an entrepreneurship program.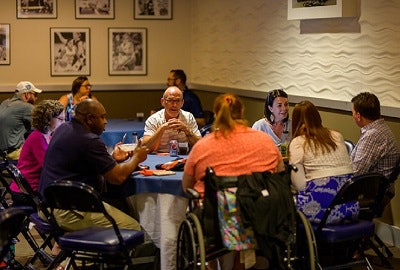 In partnership with Syracuse University's Institute for Veterans and Military Families (IVMF), Hillsborough Community College launched the program Startup Training Resources to Inspire Veteran Entrepreneurship (STRIVE).
HCC is the first community college in the country to partner with Syracuse's IVMF. IVMF is a national program that helps support and advance the lives of veterans and their families post-service.
"It has been a remarkably successful program and is considered today to be the top-tier platinum program to deliver that kind of service to veterans," says Dr. Andy Gold, co-founder of the HCC Center for Entrepreneurship and Operation Startup.
In order to be a part of an IVMF program, veterans need to search for a partnered university in their area. If accepted into the program, the veterans travel and spend nine consecutive days learning how to transform their business.
However, many veterans or spouses of veterans cannot afford to take time to attend a nine-day program. Thus, after a year of planning, STRIVE was established.
The program is split into three phrases that will take place sporadically over the course of six weeks. This layout caters to those military members with jobs, children and those who are unable to travel for extended periods of time.
"We are really excited about it because we feel like it fills a gap in the marketplace to better serve and reach veterans and military service personnel and their spouses that are unable to tap into the IVMP programming," says Gold.
First, participants are required to attend an in-person orientation and complete a one-week online training session.
"You get acclimated to some of the course content, there's videos, there's structured lessons online, there's some discussions threads and so forth," says Gold.
Following completion of the orientation, there are meetings for five weeks that take place every other Saturday, Sunday and Monday evening. In total, there are three weekends and two Monday night sessions before the program graduation.
Afterwards, each member is assigned to a mentor or adviser who has experience in business enterprising.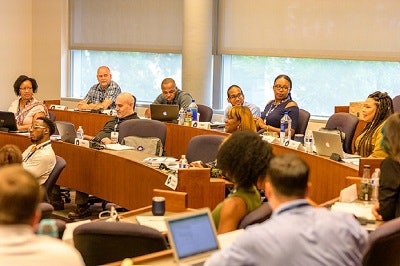 "They will work with them and either prepare them to present in front of the funding committee if that's something they are interested in," says Gold. "Or, if they discovered that their business idea really wasn't that good of a business idea, they help them develop a new business that they want to try to develop a business model around."
The program focuses on the early stages of business models. STRIVE helps those in their first year of business as well as those who have an idea but have not yet taken the steps to fully establish a company.
According to the United States Small Business Administration, veterans are 45 percent more likely to be self-employed than non-veterans.
However, Misty Stutsman, director of the entrepreneurship and small business portfolio at Syracuse University's IVMF, has found that some of the challenges that veteran entrepreneurs face includes navigation of resources and networks and finding a mentor.
"What we realized was that in this program, we could connect a veteran to a network that is right in their own backyard," she says. "That's huge that we could help them navigate resources."
Due to sponsorships and volunteer-based faculty and staff members, the STRIVE program will be free for veterans. Additionally, all faculty or staff teaching or facilitating the program will be volunteering their time.
The program, which kicked off in April, has about 25 participants.
"That's the scope of it, to make it intimate enough where the participants get to know one another and support one another," he says. "And also, to make it manageable so the teacher-participant ratio really doesn't exceed, let's say, five participants per professor."
At other IVMF programs, Stutsman has seen businesses that focus on top industries, including transportation, agriculture or construction. However, business ideas can vary from car detailing to restaurants and more.
STRIVE participant Jason Hendricks will be looking to advance his company Forget or Knot, a service that shops and delivers gifts for customers.
"A lot of customers refer to us as the Uber of gifting," says Hendricks. "If they don't have enough time to go shop for a gift, they go on our website or call our hotline and we will send a driver to the mall to fight the traffic, and we will pick up the item and hand-deliver it to the person you want."
Additionally, customers can share a video with their gift recipient to add a more personal touch.
The idea for his business came about after attending the Entrepreneurship Bootcamp for Veterans (EBV), another program under IMVF.
"I learned a lot about the fundamentals on how to do business," he adds.
He then was introduced to HCC's Operation Startup program, where he was able to find and discover his passion through discussions.
"I always have said that I wanted to give back and help people and make everyone happy," says Hendricks. "And it just all connected together. I started doing research about how many people forget to give gifts."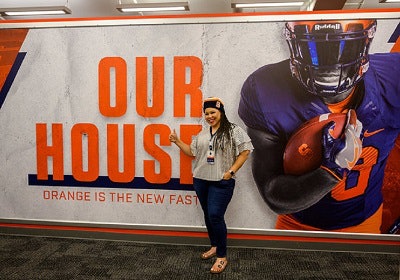 His idea for the business derived from his experience serving time in the U.S. army.
"Having a large family, for me, it was really hard to give a gift when I was in the military and away," says Hendricks. "So, I kind of created the concept that way."
Hendricks hopes his business can help other veterans who are stationed overseas and aims to one day make it free for them to use.
"Instead of sending the same old edible arrangements throughout the year, I want them to use my services," he adds.
Even after his experiences in multiple entrepreneurship programs, Hendricks still felt that he needed more guidance and advice to help kick-start his company. Thus, he chose to enroll in STRIVE.
"The STRIVE program is another opportunity for me to relearn and fill in some knowledge gaps about my business so that it can grow," he says.
In terms of STRIVE program eligibility, it is required that 50 percent or more of the established business be owned by a veteran, active military service member, Reserve/Guard or military spouse.
One factor that sets STRIVE apart from other programs is that upon completion, participants are qualified to apply to a seed fund, which can provide business funding up to $100,000, Gold says.
In terms of future plans, HCC will facilitate the program through 2020 and then will look to create a national pilot program for other community colleges to use.
"We hope that they develop a greater understanding for what business enterprising is all about and what it entails to really get a business going," says Gold. "I think there's a lot of mythical perceptions that people have about being self-employed and you kind of live on a nice island somewhere making a lot of money. And it's obviously not like that. It's very, very hard."
Gold hopes that once the program ends, some of the STRIVE participants will enroll in HCC or in one of their other college-credit programs.
"If we can help a veteran or transitioning service member to realize that education can be fun and beneficial and provide a pathway to continue their education, that could be a great byproduct of STRIVE," he notes.
This article appeared in the Sept. 5 issue of Diverse.