After taking a pledge to serve their country on the often-dangerous front line, colleges and universities—both private and public—have been actively working to provide incentives to active-duty military and veterans to enroll at their institutions.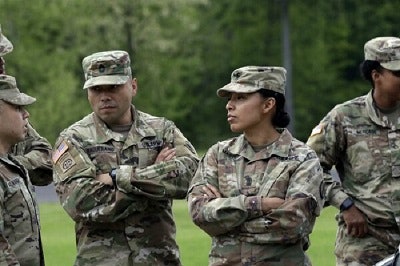 The initiatives vary. They include providing a variety of academic and support services that focus exclusively on this demographic, such as daycare and child services, student programming and online courses.
But enrolling these students has not always been easy. In recent years, a growing number of colleges and universities have reported a sharp decline in the number of military-affiliated students on their campuses.
To address this growing concern, Georgia Southern University has made it easier for active-duty military or veterans to find out what courses they can receive credit for based on previous military experience.
Earlier this year, the university introduced a new widget that encourages active-duty military and veterans to share information about their branch of military service, rank and job title so that the university can identify courses to match their service experience.
The tool is available to prospective and current students and it provides an immediate resource of the list of courses for which an applicant may receive credit.
"The biggest benefit is that it doesn't require them to take classes in things that they're already experienced in," says Sgt. Maj. Bill Gammon, who serves as coordinator of Military Education and Outreach at the public institution located south of Atlanta. "It helps them expedite their way through their college experience here to their final goal."
Gammon says that the university works with students to create a plan based on their choice of major and helps individuals decide which courses would be best for study.
The more military experience someone has, the more credits they could potentially receive, he says. Most applicants, for example, automatically receive credit for a kinesiology course as a result of physical training that is required in all branches of the military.
Providing college credit for military service is hardly new.
For years, colleges and universities across the nation—including University Without Walls at the University of Massachusetts, Amherst—awards college credit for military service.
But GSU says that the new tool and course credit offering furthers the university's commitment to ensure that military-affiliated students are successful in their college endeavor.
"Military and veteran students are a valuable asset to any university, and this program and tool will be beneficial to them," says Gammon. "The more services we provide them to make their transition easier coming out of the military, the more they're going to be successful."
Financing an education
At a young age, Andrew Nagel knew he wanted to join the military. Trained as a combat medic, he spent years helping his fellow service members become a licensed practical nurse along the way and eventually an instructor. After 22 years of service, Nagel retired from the Army Reserves, but he wasn't done serving yet.
After searching for various nursing programs, Nagel became discouraged when he realized several options lacked the proper accreditation or resources to best serve student-veterans. That's when he found Western Governors University (WGU) Indiana, a nonprofit online university accredited by the Commission on Collegiate Nursing Education.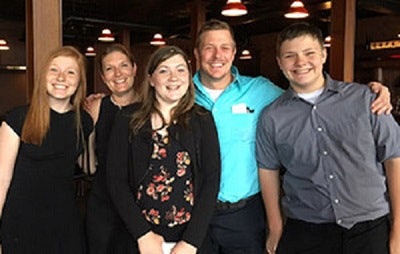 Thanks to the many military tuition programs and scholarships, Nagel was able to further his education.
Now, he is just a few months away from graduation.
Nagel joins more than 520 other active-duty military members, veterans or military family members at WGU Indiana.
"The program offers valuable advantages to a person like myself," says Nagel. "I can study and schedule my tests around my work schedule. If I can do it, then so can most people, but you need to be willing to make sacrifices and put in the hard work."
Recognized over the past decade as one of the top military-friendly colleges and universities by Military Advanced Education, WGU Indiana specializes in competency-based education that college officials say has revolutionized the way students learn, master concepts and progress toward a college degree.
"When you decide to do something like this, at my age and circumstances, it seems like a very intimidating and daunting task," says Nagel. "Then one day you wake up and say, 'Oh wow, I'm actually almost done. What the heck took me so long to make this decision and do this?' Life is funny like that."
Competitive schools fight for students
Of the 950,000 veterans who used the GI Bill for their education in 2018, only 582 enrolled in an undergraduate program at the nation's Ivy League schools. Veterans comprise less than 1 percent of the total undergraduate population in those eight schools, ranging from 12 at Princeton University to eight at Harvard University.
In July, the College Board, a nonprofit that administers standardized tests, launched its new College Level Examination Program (CLEP) platform. Service members have the option to enroll in this search when registering for military-funded CLEP exams, which allow candidates to demonstrate their mastery of introductory college-level material and earn college credit.
"Our goal is for every service member to be contacted by at least one school, and help them find the best school," says Bruce Shahbaz, senior director of College Board's Strategic Military Initiatives.
Shahbaz says that the College Board search program would facilitate collaborative planning between the schools and veterans, improving their chances of getting into a top-tier school and helping them make the most of available education opportunities.
"Engineering schools will be able to talk with service members who are interested in engineering degrees without having to travel to 100 military bases and attend every college fair," says Shahbaz.
The CLEP score is available to 20 institutions that can search the database by a veteran's choice of college degree and the type of school they want to attend. Participants in the pilot search program range from two-year community colleges to Ivy League schools, and veteran support groups. Though the support from each institution might vary, the service will be provided free of charge.
"Every school in the pilot has a high graduation rate and has demonstrated a willingness to support veteran students," says Shahbaz.
The GI Bill-users at Ivy League colleges grew by nearly 34 percent in 2018, according to the Department of Veterans Affairs. But doubling the number of student veterans at Harvard from four to eight students is "a negligible increase," says Adam Behrendt, president of the Ivy League Veterans Council and a Navy veteran.
Sixty-two percent of veterans are first-generation college-goers who might not understand the application process, or may feel that they are incapable of getting into elite institutions, according to experts.
"The CLEP search program gives schools the tools to reach this population," says Behrendt, who will graduate from Stanford University this year as a math major.
James Schmeling, executive vice president at Students for Veteran Affairs, says that many schools discriminated against veterans because of outdated stereotypes about those in service.
"Many times, the perception was that you went to the military when you didn't have options," he says, adding that the overall perception is quickly shifting.
This article appeared in the Sept. 5 issue of Diverse.