A new construction and renovation project on Paul Quinn College's (PQC) campus continues the college's momentum in transforming its students' academic experience.
Last week, Paul Quinn broke ground for the Trammell S. Crow Living and Learning Center, which will be the first new building on campus in 40 years. The center will host a 30,000-square feet dormitory and 10,000 square feet of classroom, office and physical fitness space. The gym will hold 1,500 individuals.
The groundbreaking for the construction and renovation project follows on the heels of PQC's announcement about its first Urban Work College site in Plano, Texas. PQC President Dr. Michael Sorrell praised the new campus building as an asset for the South Dallas community, Fox 4 News reported.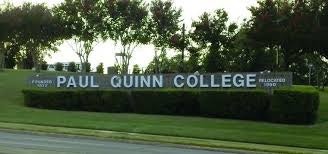 "Communities that are in under-resourced areas, they are forced to live every day with a different kind of hope. And that hope often times goes unrewarded," Sorrell said at the groundbreaking. "And this day, this moment, this building says that by holding on and having faith, that that faith can be rewarded."
The living and learning center is named for the largest donor in the project – Trammell Crow, a real estate investor and philanthropist. PQC leaders estimate that the construction of the building will be complete for the start of the Fall 2019 semester.
Tiffany Pennamon can be reached at tpennamon@diverseeducation.com. You can follow her on Twitter @tiffanypennamon.