When Dr. Russell H. Fazio, a psychology professor at The Ohio State University, examined interracial relationships between Black and White dormitory roommates a while back, he found that the relationships were more likely to dissolve if the White student had a "negative racial attitude."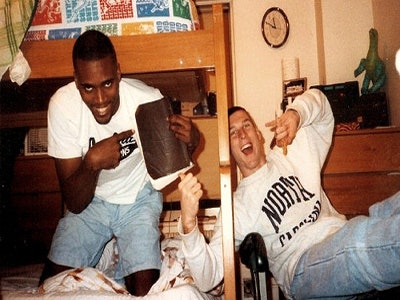 "And that's what we found using an implicit measure of automatically activated racial attitudes," Fazio told Diverse in an interview Wednesday, using terminology from his 2005 paper, titled "Automatically Activated Racial Attitudes as Predictors of the Success of Interracial Roommate Relationships."
"What we found is that it was those students in particular for whom the relationship was problematic, and it was in those cases that the dyad would be most likely to split up," Fazio said. "That is, one of the two people move out of the room."
More specifically, the study — published in the Journal of Experimental Social Psychology — found that whereas only 5 of the 57 same-race White pairs in the study ''broke up'' before the end of the semester, 16 of the 58 interracial pairs did so.
Two students in an interracial dorm-room pairing at the University of Hartford became the latest casualty in dramatic form after the White student allegedly rubbed her bodily fluids on the Black student's personal items — including used sanitary napkins on her backpack and putting her toothbrush "where the sun doesn't shine" — then bragged about it on social media after the Black student — who had recently gotten sick — moved out.
The alleged perpetrator has since been arrested and charged, and hate crime charges are still in the mix. The episode quickly generated worldwide headlines that undermine the university's efforts to portray its campus housing as a "supportive and fun environment."
Given the racial strife that has permeated college campuses and campus housing recently — from racial slurs found on the message doors of Black cadets at the U.S. Air Force Academy Preparatory School earlier this year to bananas being left at the dorm room of a Black woman student at American University the year before — Fazio's research and other papers on residence life raise unsettled questions anew about what colleges and universities should do to ensure that students don't end up in campus housing arrangements that threaten their safety and well-being.
"This incident is saddening," said Mary DeNiro, CEO and executive director of the Association of College and University Housing Officers — International, or ACUHO-I, a Columbus, Ohio-based organization that works to support campus housing professionals.
"Campus residence halls are designed to be safe and inclusive spaces where students can live and learn in community with one another," DeNiro said. "The residential experience is a powerful opportunity to interact with individuals with whom you may not have otherwise interacted outside of your college experience."
DeNiro said research has shown that living on-campus "can lead to increases in students' openness to diversity because of these interactions, including having a roommate from a background that is different from one's own."
"As a profession, we believe that these experiences are essential for students' development as citizens and future leaders, and should be encouraged both through residential programs and policies, as well as other diversity engagement opportunities offered across campus," DeNiro said.
An ACUHO-I official said DeNiro was referring to a text tiled "How College Affects Students," which is essentially a literature review.
However, a look at other research shows that interracial dorm-room pairings don't always lead to greater socialization or mixing of students from different racial or ethnic backgrounds — and that it may be a bit Pollyanna-ish to think that simply pairing students from different backgrounds in the same dorm room will magically lead to better race relations for future generations.
For instance, a 2009 paper — titled "Do More Diverse Environments Increase the Diversity of Subsequent Interaction? Evidence from Random Dorm Assignment" — found that exposure to members of a different race "increases the number of different race friends in the dorm environment, but does not increase the diversity of social networks outside that environment."
"In particular, students with more Black dorm-mates have more Black friends within the dorm, but do not have more Black friends outside the dorm," the paper states. "The same pattern holds for Asian friends."
The paper examined students at Rice University and used their list of Facebook "friends" as a proxy of their social network. Facebook friends would have been a better proxy then than it is now because in back 2005 Facebook functioned as an "online directory that connects people through social networks at colleges," not the broad social media network that it functions as today.
Similar conclusions were reached in a different paper, published in the Quarterly Journal of Economics in 2006.
"There does not appear to be any extended network effect in which having a Black roommate increases a White student's interaction with other Black students outside of her room, hallway, or dorm," states the paper, "How Do Friendships Form."
"When we simulate different housing policies, it becomes clear that it is difficult to create meaningful amounts of additional interracial interaction simply by moving students around," the paper states.
A number of campuses have struggled with ways to address racial concerns. For instance, last year, California State University Los Angeles found itself defending special interest housing for Black students after the campus' Black Student Union wrote a letter to the university that complained about racist attacks and demanded — and received — "housing space delegated for Black students" that would serve as a "safe space for Black CSLA students to congregate, connect, and learn from each other."
Fazio's research has found mixed results on the benefits of interracial dorm room pairings. For instance, a 2008 research article found that White freshmen randomly assigned to an African-American roommate were "generally less satisfied, less socially involved, and less comfortable with their roommates than were White freshmen randomly assigned to a White roommate." However, the article, published in Psychological Science and titled "Interracial Roommate Relationships: An Experimental Field Test of the Contact Hypothesis" noted that interracial roommate relationships still "do produce benefits."
"That is, White freshmen with African-American roommates reported increased comfort interacting with African Americans at the end of the quarter," the paper states.
"Participants in interracial rooms also reported decreased intergroup anxiety toward African Americans at the end of the quarter, whereas participants in same-race rooms did not exhibit any change on this measure," the article states. "Thus, it appears that the opportunity for intergroup contact experienced by students in the interracial rooms did have positive consequences."
Jamaal Abdul-Alim can be reached at [email protected] or you can follow him on Twitter @dcwriter360.