As college faculty and administrators slide into their slippers and prepare to work online, other campus workers who can't carry out their duties remotely – namely members of dining, housing and maintenance operations – face layoffs as various institutions across the country are reeling from the impact of the coronavirus pandemic.
Last week, Bon Appétit Management Company, the dining provider at the University of Pennsylvania (UPenn), announced it would lay off its 140-person team of retail dining workers after March 31, The Daily Pennsylvanian reported.
Though Bon Appétit typically lets about 70% of its staff go each summer, the abruptness of the current layoff will cause financial hardship and uncertainty, said John Preston, the secretary-treasurer of Teamsters Local 929, the union that represents UPenn retail dining workers, to The Daily Pennsylvanian.
In the meantime, a group named the Student Labor Action Project at the school published a petition asking the university to intervene on behalf of the contracted Bon Appétit workers who face impending layoffs at the end of the month. As of Wednesday afternoon, roughly 8,000 people have signed the petition.
Unfortunately, the fate of UPenn's retail dining workers is not an anomaly. The list of organizations taking similar measures is growing.
"Colleges are being very cautious with their finances right now because nobody knows how this virus is going to end up," said Dr. Robert Kelchen, associate professor of higher education at Seton Hall University. "If they knew the magnitude of the crisis, they may not need to make all these cuts but given concerns about enrollment for next year, and whether there are even on-campus classes next fall, colleges are being very cautious in spending money, so they're cutting everything that they can."
A bit further west, for instance, Western Michigan University employees deemed "non-essential" face uncertain futures, too, as they rely on their dwindling paid time off and sick leave to receive a paycheck.
The school recently announced that after these employees use their allowances, they will enter a "no-pay status" in which they'll continue receiving health benefits but won't receive any paychecks, MLive reported.
In a Facebook post, Western Michigan University's chapter of the American Association of University Professors (WMU AAUP) criticized the school's announcement — which it said included links to food banks in some of its messages — as "draconian."
"To be clear, this is a large number of loyal, productive employees with whom the university has forged legal and ethical obligations," WMU AAUP wrote. "The ramifications of this hasty, extreme move are dire and can be expected to push some of WMU's most vulnerable employees into poverty."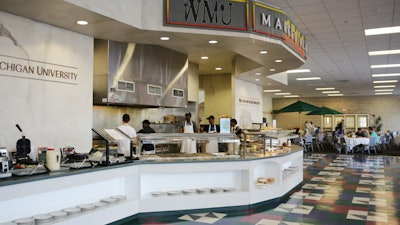 At Long Island University (LIU), too, an anonymous, tenured professor told Newsday that many of the school's recent, "temporary" layoffs were some of the lowest-paid employees who could not perform their work remotely. Another anonymous source told Newsday that those layoffs included at least 39 secretaries at the Brookville campus and another 48 at the Brooklyn campus.
"After reviewing the job duties of employees who are required to work from home, the university concluded that the work performed by some of its employees is not amenable to working remotely," LIU Post told Newsday in a statement. "Accordingly, LIU has reluctantly decided to temporarily lay off a small percentage of its workforce for the next 30 days. The university has committed to making no further adjustments during this period."
Meanwhile, some schools, notably those with larger financial flexibility, are taking a different approach. The University of Chicago will continue to pay its contracted food service, janitorial and security staff through the spring quarter and will provide additional paid time off for its non-contract, temporary and seasonal staff employees, The Chicago Maroon reported.
A press statement from Duke University similarly stated that it would continue to pay all of its faculty and staff regardless of their work location or work schedule. It also said it would continue paying its contract workers in food service facilities and hotels their regular wages through May 31.
It's important to note, however, that these schools have the financial flexibility that other schools do not. According to Kelchen, The University of Chicago and Duke have large endowments that allow them to continue paying their workers regular wages.
"Yes, they've taken a big hit with the stock market collapsing and having to refund some money, but they still have billions of dollars," Kelchen said. "Most colleges don't have that amount of resources. And quite a few colleges are concerned about whether they'll be able to keep operating. So given that, they don't feel like they have a choice."
He listed Long Island University as one of the many universities scrambling to stay afloat in rough financial waters.
"They have to cut spending as much as they can right now," Kelchen said. "At this point, I expect colleges to put as much spending on hold as they can until we really have an understanding of when this crisis will pass. We just haven't seen a crisis like this in our lifetimes."
Correction: An earlier version of this story cited a news report from The Washington Free Beacon that had incorrect information, and misstated the name of the university that uses Bon Appétit Management Company as its dining provider.