As high school juniors get ready to apply for university, many worry colleges will ask them to submit scores for standardized tests they can't currently take because of the coronavirus.
This April, opportunities to take the SAT and ACT were canceled with tentative postponements until June. While some students take these tests only once, it's common to take them multiple times to try for the best possible score. More than one million high school juniors were scheduled to take the SAT or ACT for the first time this spring, according to the College Board.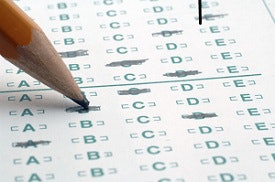 Fearing their applications will be put at a disadvantage, students are asking colleges not to require test scores in fall 2021.
"A majority of colleges require SAT and ACT scores," said Maodon Tohouri, a junior at Amador Valley High School in Pleasantville, California. "For those who wanted to take or retake the test [this spring], that opportunity has been lost … These announcements have heightened the anxiety of many of my peers. And for those who have always been disenfranchised in this process, the announcements are worse."
Tohouri addressed a virtual crowd at a live online panel discussion on Monday, hosted by Student Voice, a student-run non-profit. The group has been calling on colleges and universities to make standardized test scores optional for next year's high school graduates in light of the current situation and to question the role of standardized testing in admissions more broadly. Three weeks ago, the group started a petition, collecting over 1,000 signatures in favor of temporarily nixing test score requirements, and held a letter-writing campaign to colleges and universities.
At the online press conference, Chris Suggs – a third-year student at the University of North Carolina at Chapel Hill and the president of his campus's Black Student Movement – argued that standardized testing is inequitable under the best of circumstances, let alone during the coronavirus. He worked part-time in high school to help support his household, while juggling extracurriculars and volunteer work, which was "extremely taxing and tolling," he said, but standardized test scores don't take those kinds of challenges into account.
Now high school students are applying to college at a time when communities of color have been disproportionately hit by coronavirus cases and the SAT and ACT are unpredictably delayed.
High school students of color "have this increased feeling of uncertainty" on top of the disparities they already face, Suggs said.
Meanwhile, even if testing is possible in June, it'll come with added logistical challenges, pointed out Emanuelle Sippy, a junior at Henry Clay High School in Lexington, Kentucky. When students take the SAT during the spring, students don't have to register with the College Board. The test site is their school and they have school buses for transportation. There's less "institutional knowledge" required, she said.
A growing number of colleges and universities started abandoning the requirement for standardized testing – now over 1,080 schools – long before the coronavirus. The test optional movement began with private colleges in the Northeast as early as the late 1960s, based on research that showed minority and low-income students, who often have less preparation, score lower on college entrance exams.
"Test scores have a problematic correlation with family income, with sex and with race and ethnicity. Period," said Andrew Palumbo, dean of admissions and financial aid at Worcester Polytechnic Institute. His institution has been test optional for 13 years. "As someone who's led admissions teams at a range of different institutions, admissions officers do not need a single high-stakes test score to make solid admissions decisions."
Since the campus shutdowns because of the coronavirus, about 60 institutions have temporarily agreed to waive their test score requirements for fall 2021. Even the University of California system, which came out with a report in favor of mandatory standardized test scores in February, suspended the requirement.
The question is if any of these newly-minted emergency test optional policies will stick. Some student advocates hope the answer is yes.
Jamaal Muwwakkil, the student regent on the University of California system board of regents, is "encouraging that conversation to persist" after the crisis, because standardized tests "kind of just test test-taking ability," he said.
A Ph.D. student at UC Santa Barbara, Muwwakkil compared applicants with high scores to students admitted because of a special talent.
But "instead of being able to play the saxophone well or swim real fast, you can sit down for two to three hours and take a test very well," he said. "If that's what we get from it, and we invest so much stress and anxiety, emotional and mental strain, and economic output from some of our most vulnerable applicants … it doesn't seem like a good enough rationale to persist."
Claudia Marroquin, director of admissions at Bowdoin College, is hopeful schools that temporarily go test optional will be pleased with the possible results: a greater "diversity in perspectives and experiences" in their student bodies. Bowdoin was the first school to nix the testing requirement in 1969 and continues to be a strong advocate for the test optional movement.
"It does bring students into the classroom experience who may not have been there otherwise," she said. "And that is the purpose of education, to really have your mind stretched. That comes from being able to share a classroom with people who don't look like you, who didn't grow up with the same resources and realizing you've all earned your ability to be at that seat and at that table."
Sara Weissman can be reached at sweissman@diverseeducation.com.