University of Chicago students began a tuition strike Tuesday, demanding the school halve the cost of tuition and waive fees during the COVID-19 pandemic, reported the Hyde Park Herald.
As of April 29, which was the spring quarter payment deadline, roughly 200 people, including undergraduates and graduate students, were withholding tuition from the school.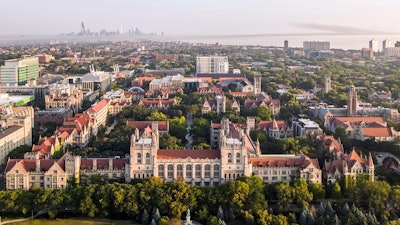 Additionally, more than 1,800 students have signed a petition stipulating their requests, which include waiving advanced residency tuition for doctoral students; permanently reinstating part-time status for all students; instituting a tuition freeze; and increasing budget transparency.
"As students struggle to understand how the University can justify charging full tuition for a 9-week quarter of online classes, it has become resoundingly clear that we need financial transparency," the petition states.
According to Julie Attie, an organizer with UChicago for Fair Tuition — the group behind the campaign — a 50% reduction in tuition would cost about $85 million of the school's $8.5 billion endowment.
Meanwhile, in a statement to the Herald, the school's administration said that "tuition is an essential source of funding for the University's ongoing operations, including support for financial aid as well as faculty and staff salaries. Reducing tuition for students regardless of their financial means would require substantial cutbacks in operations."