President Donald Trump wants higher education institutions to reopen this fall, he said on Sunday, as he praised Purdue University president Mitch Daniels' decision to reopen the institution as a residential campus with in-person instruction in fall 2020.
At a virtual town hall hosted by Fox News, Trump was asked whether he is "going to urge the nation's universities and schools to go back" this coming fall, amid the coronavirus pandemic.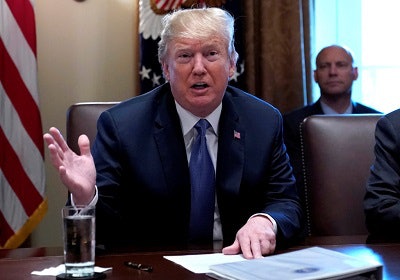 "I am. I want them to go back. We have to get our country back. Yeah. I don't want to do this forever," replied Trump, according to a transcript of the Q&A that took place during the town hall, which was posted on the White House website. "We have to go back. We have to go back. And whatever it is — I would say, with the exception of teachers at a certain age, maybe they should wait until this thing passes. It will pass. You know, it's going to pass."
Without mentioning his name, Trump lauded the Purdue University president's decision to reopen in the fall. Purdue president Daniels was governor of Indiana for two terms starting in 2004. He ran as a Republican.
"I watched a very good governor, former — former governor of Indiana preceding — he preceded Mike Pence. Good governor. And he's the head of Purdue," Trump said. "It's a great school. And I saw him the other day. He wants to go back. He's going back. Purdue — big school, fantastic. They're going back."
Last week, Daniels indicated the university will open campus for face-to-face instruction this coming fall, "determined not to surrender helplessly" to problems created by the coronavirus pandemic.
One reason Purdue president Mitch Daniels cited for the decision to open is that 80% of Purdue's population is made up of people under the age of 35, saying that "all data to date tell us that the COVID-19 virus, while it transmits rapidly in this age group, poses close to zero lethal threat to them."
Daniels said in a letter to the university community that instead of giving in to problems created by the pandemic, Purdue will, "tackle and manage them aggressively and creatively.