In response to the coronavirus, Harvard University froze its search for ethnic studies faculty while continuing the hunt for a new athletic director, who was named last week, provoking ire from student organizers.
Last June, Dr. Claudine Gay, dean of the faculty of arts and sciences, announced that the school would hire three to four ethnic studies faculty members. Some candidates had already visited the campus with more scheduled to give talks before the coronavirus hit.
But in a March 26 email to the Harvard Ethnic Studies Coalition – a group of students and alumni advocating for ethnic studies at Harvard – Gay said the search was suspended, reported The Harvard Crimson, Harvard's student newspaper.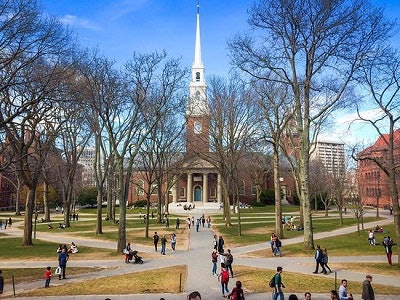 She expressed concern that candidates would be unable to present their best work during the pandemic.
"I can't even begin to describe how disheartening it is to have seen this effort begin to bear its first fruits, only to have meaningful progress put on an indefinite timeline," she wrote. "But we also know that the attention of faculty, both those advancing this work here and those who are candidates in this process, is necessarily dedicated elsewhere."
Two weeks later, administrators announced a university-wide hiring freeze in an April 13 message to the campus community, as universities across the country halt hiring. However, Harvard's search for a new athletic director, which started in November 2019 – months after the ethnic studies search began – continued as planned. Gay announced last week that Erin McDermott would fill the role with a start date of July 1. Neither Gay nor the university responded to request for comment from Diverse.
The juxtaposition of the two decisions frustrated student activists.
Alondra Ponce, a rising senior minoring in Latinx studies, called it "hypocrisy," given the diversity and inclusion language in "all of their pamphlets."
"Why is [an athletic director] so important?" she said. "It's highly, highly unlikely that athletic events are going to exist in any capacity at all within the next year or so … We deserve, we demand, a contingency plan for ethnic studies from the university, which we have not gotten."
Ponce got involved in the Harvard Ethnic Studies Coalition as a sophomore after taking a Latinx literatures and histories class. She felt like she was learning things she'd never been taught before, and she wanted more options.
When she heard about the hiring freeze, she felt "incredibly, incredibly disappointed and angered," she said, but not surprised.
The suspended search comes after the tenure denial of Dr. Lorgia García Peña, a Latinx studies scholar, at Harvard in November, a decision widely criticized by students and faculty. Students held multiple protests on García Peña's behalf, and more than 200 colleagues from universities across the U.S. and beyond sent a letter to Harvard University president Dr. Lawrence Bacow, expressing their dismay.
Plus, last spring, students and alumni protested the loss of two professors focused on Asian American studies, Dr. Natasha K. Warikoo and Dr. Genevieve A. Clutario, and one professor specializing in science and religion in the Islamic world, Dr. Ahmed Ragab. Clutario took a position at Wellesley College, while Warikoo and Ragab were not put up for tenure.
Left with fewer mentors, ethnic studies graduate students have their own set of concerns about the faculty search coming to a halt.
For Massiel Torres Ulloa, a Harvard Ph.D. student in romance languages and literatures, the hiring freeze seems like the latest development in a pattern of neglect, she said. Torres chose Harvard to work with García Peña, so her tenure denial felt like a "catastrophe."
"I was not seen by the institution," Torres said.
It made her worry about her own future tenure prospects as an aspiring ethnic studies scholar. She quickly got involved in advocating for ethnic studies faculty at Harvard, alongside undergraduates like Ponce in the Harvard Ethnic Studies Coalition.
While Harvard has a committee for Ethnicity, Migration and Rights, there's no ethnic studies department, Torres said, even though Harvard students have called for one for almost 50 years.
"I think on paper they want to show commitment to ethnic studies," she said. But "I don't believe there's an honest commitment to ethnic studies at Harvard."
Mentors in her field are mostly untenured at the university, which means their employment – and their ability to help graduate students like her – is tenuous, she said. It also limits her course catalog.
While she understands that the university has been hit by the pandemic and the resulting economic downturn, the hiring freeze for ethnic studies means the pandemic "affects most prominently the spaces that were not valued before," she said.
For Ponce, the decision isn't just a display of Harvard's priorities but "how afraid they are of ethnic studies," because the field is "at its very core" a challenge to the history and values of institutions like it.
But with communities of color disproportionately impacted by the coronavirus, steps toward a robust ethnic studies program feel particularly pressing to her.
"Ethnic studies isn't just about the work that academics do," Ponce said. "It's about the real impacts, the daily lives of our communities."
Sara Weissman can be reached at [email protected].