For one set of Jackson State University graduates, the postponement of this year's commencement ceremony brought a sense of déjà vu.
Denied the chance to accept their diplomas the year they graduated, the class of 1970 was finally slated to walk with the class of 2020 at the beginning of May. But their long wait was extended when the university delayed the ceremony in favor of a virtual event held on May 9, due to the COVID-19 pandemic.
When Jackson State alumna Gailya Porter heard the news, it was like "here we go again," she told Diverse. She was a junior in 1970, but she was set to receive a gold diploma this year on behalf of her late husband, Richard J. Porter, who never had the chance to cross the stage himself.
"It brings sadness, I think to all of us," she says. "I'm sure there's some that are questioning, 'Why now?' It doesn't appear that we are going to have the opportunity to march and be recognized."
The first time Porter's husband and his classmates missed that opportunity, it was due to racial tensions amid the protests against the Vietnam War.
In the spring of 1970, anti-war protests simmered on campuses across the United States. But the movement took on new urgency on May 4, when the Ohio National Guard killed four student protesters at Kent State University. A week later, a similar tragedy took place at what was then Jackson State College. Around 100 demonstrators protesting against racism in the neighborhood surrounding the historically Black college confronted a line of police officers on Lynch Street — a main road going through the campus — when shots rang out.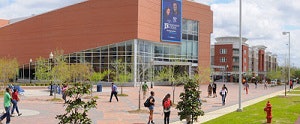 There are differing accounts of what happened. Police said they assumed a sniper was looking down at them from a women's dormitory, and witnesses said the sound of a glass bottle breaking on the ground resulted in police opening fire. In the end, the FBI's investigation found no evidence of a gunman, and none of the officers were charged for the deaths of Gibbs and Green.
When the shooting stopped, two demonstrators lay dead — Jackson State pre-law student Phillip Lafayette Gibbs and a 17-year-old high school student named James Earl Green. Twelve others, including Porter, were injured trying to retreat to Alexander Hall, B. F. Roberts Dining Hall and the campus library. In the aftermath of fear, rage and grief, Jackson State administrators decided to cancel the graduation ceremony that was scheduled for the following week.
"That could have been my last day on earth," Porter says. "They removed pellets, shrapnel from my hands, my arms and, of course, my legs."
Fifty years later, the class of 2020's sympathy for them has turned to empathy.
"That could be me, and the 1970 class is me," says Jordan Jefferson, a graduating senior and Student Government Association president, who was a finalist for a Rhodes Scholarship last year. He feels even worse for them because they were denied their commencement ceremony a second time. "That is very, very hard," he told Diverse.
Jackson State plans to reschedule the event when it is safe to do so, but in the meantime, Porter was invited to describe her experience of the fateful day and offer some inspirational advice for the class of 2020 during the university's virtual Celebration of Graduates program. Many of the golden class of 1970 had to rely on their younger family members to help them watch the May 9 program. Porter, too, had to seek the help of her daughter, LaToya, and niece, Ebonee, to set up her laptop so she could deliver her speech.
But the most important thing for her is that Richard finally receives that gold diploma.
"I want to make sure that LaToya receives it because that's a part of her history," she says.