The University of California Irvine (UCI) announced that it will fund 19 projects aimed at advancing equity in the age of COVID-19. An initiative by the Office of Inclusive Excellence's Confronting Extremism Program, the awards will support interdisciplinary approaches to inequities highlighted by the coronavirus pandemic.
UCI sought out projects that "explore the meaning(s) of the pandemic from a broad cross section of fields, disciplines, methodologies or theoretical perspectives," wrote Dr. Douglas M. Haynes, chief diversity officer and vice chancellor for equity, diversity and inclusion in his call for project proposals. "Using COVID-19 as a lens through which to explore fault lines of inequities, proposers are therefore encouraged to interrogate the uneven effects and realities of the pandemic on people, communities, societies, nation-states, state systems or global or planetary conditions."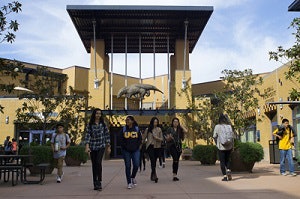 Thirteen individual and team faculty projects won funding out of 25 submissions, and six resource center projects earned awards out of 10 proposals. The projects span disciplines – including computer science, education, nursing, sociology and more – and tackle a variety of inequalities from equitable contact tracing in the university's surrounding county to distance support for historically Black colleges and Hispanic serving institutions.
Next spring, winners will come together for a forum to present their research.
"I love my work being able to be in a broader community," said assistant professor of education Dr. Constance Iloh, a grant winner.
The award will fund her research on how low-income Black and Latinx students make decisions about college amid the pandemic, using a model she developed called the "Iloh Model of College-Going Decisions and Trajectories." Her approach is "rooted in the context of [each] individual" by taking into account three major components – time, information and opportunity – in analyzing students' decisions, consumer behavior and pathways.
"The awesome thing about this particular grant is it's allowing me to focus on minoritized groups [whose] narratives potentially might get lost in all the confusion and complexity of this moment," she said.
Iloh recognizes that it's a complicated and "humbling" time to be doing qualitative research. The funding gives her room for innovation, she added, as she thinks through ways to engage deeply with communities of color while observing safety protocols and showing sensitivity to the challenges and demands of COVID-19.
Scholars need to think "creatively" about "how to engage communities and individuals in ways that are respectful to their time, not just in general but given this sort of precarious moment," she said. At the same time, she wants to do all she can to uncover and "really honor the rich narratives that might come about. My main goal is just to honor their reality."
Iloh ultimately hopes the award will amplify the voices of these students, the "experts of their experiences," while highlighting her model as a resource to award recipients when they gather in the spring.
Award recipient Dr. Pavan Kadandale, associate professor of teaching, molecular biology and biochemistry, also hopes his team project – a UCI prison education program – will become a widely applied model. In partnership with criminology scholars, he's heading an effort to extend a UCI degree to incarcerated students. While California community colleges offer prison education, he said this is new ground for the University of California system – and an important step at a time higher education is scrutinizing inequalities.
"A lot of people get thrown in prisons for reasons that have very little to do with crime and a lot to do with existing social inequities," he said. "There's quite a bit of literature that supports the idea that educating people in prison decreases rates of recidivism and generally makes our society as a whole much, much better. One of the things we don't have right now is a program where the UCs, and specifically UCI, can go in and give these people a world-class education."
The goal is to give the state's incarcerated students "the same opportunity that anyone in the state of California has" to transfer to UCI.
With widespread campus support beforehand – and now this award – the team hopes to welcome its first cohort in fall 2021, a group of students from Richard J. Donovan Correctional Facility who have been prepped to transfer to UCI through a partnership with Southwest College. The university will start by offering a bachelor's degree in sociology with plans to expand degree options in the future.
The award funds, however, will specifically go toward research on the "non-cognitive factors" that foster student success in prison.
For example, "one of the key factors we know that impacts student success in academia is a sense of whether they feel like they belong within academia or not – which has nothing to do with can they do math, can they do chemistry, can they write an essay," Kadandale said. "Research has shown there are ways we can improve this." But how do you create a sense of academic belonging for incarcerated students? How can they receive all the perks of a UCI education like exposure to art and theater and research opportunities?
"We know a certain amount about these non-cognitive factors in various student populations, in various demographics, but we know very little about what are the extra-academic resources we need to provide to students who are in prisons or students who are formerly incarcerated to make sure they have the best chance of succeeding academically," he added.
He hopes the newly funded research will offer a template for comprehensive prison education and serve the state as it wrestles with persistent – and now exacerbated – inequalities.
"There's no reason this model can't be replicated across the entire state of California and leverage existing partnerships so that it's not just one university offering one degree in one prison but it becomes a whole network across the state and reaches all the prisons in California," he said. "That would be so amazing. There's no reason this can't happen."
Sara Weissman can be reached at sweissman@diverseeducation.com.