"Though the storms keep on raging in my life; And sometimes it's hard to tell the night from day …."
These opening lines to the powerful track "My Soul Is Anchored" by Douglas Miller are an apt description of the year that has been 2020. Some have suggested that this year has had way more than its share of experiential storms, as well as literal storms.
I refer to them as a series of pandemics: a health pandemic, a race pandemic, an economic pandemic, a political pandemic and even weather pandemics. Each is compelling in its own right; however, it is the intersection and overlap of these conditions that exacerbates their existence. Furthermore, the effects they render on higher education are certainly without precedent.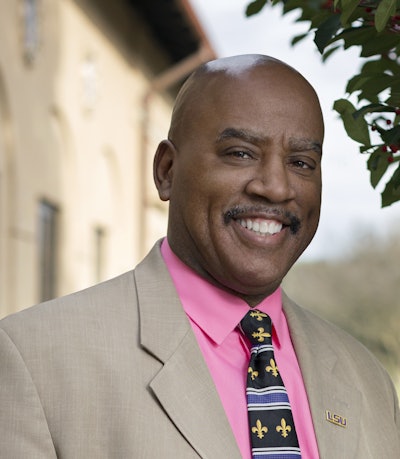 Back in March, the coronavirus health pandemic forced the immediate closure of many of our campuses and spun us into an endless web of virtual meetings. Just as we were settling into the third month of a "new normal" of mask wearing, hand washing and social/physical distancing, a race pandemic was ignited. Ahmaud Arbery, George Floyd and Breonna Taylor were sadly added to a roster nobody wanted their loved one to be listed on. It is a list that all too often reduces its members to hashtags and t-shirts. They become etched in our collective memories as their unspeakable deaths are often devoid of the true justice they deserve. The true justice that is so frequently denied people of color and African Americans in particular.
The tragic events have further illuminated the racial divide that exists in our nation. Brutal and often senseless murders of unarmed Black people have continued to unfold with greater frequency.
However, this time the residual protests and unrest have led to an immediate cry for justice and reform. This caused many of our institutions to review our racist pasts as well as the no-longer acceptable building names and statues. Changes in many cases were immediate and witnessed not only in higher education but in corporate responses as well. America was reawakened to the need to make corrections to historic wrongs and to make real commitments to level the playing field.
And then comes Jacob Blake. Unarmed, Blake was shot in the back by police as he returned to his car where his frightened children were located.
Angry NBA players refused to play in playoff games and were joined by professional athletes from the WNBA, NHL, MLB and other professional athletes who staged boycotts and walk-outs. These athletes utilized their enormous platforms to call attention to the ongoing injustices involving police shootings and racial injustice. It spilled over to collegiate athletics where student athletes raised their collective voices to say, "Enough is enough!"
What about the other pandemics?
The economic pandemic has shone a dual spotlight on the health pandemic. First, as a result of the coronavirus, many businesses have lost revenue, laid off employees and a number have gone out of business altogether. These hard times have been passed directly to those who lost jobs or saw their salaries cut or their hours reduced. Secondly, this spotlight highlighted the major health inequities for the poor and underinsured. Interestingly, these health inequities were also seen across the entire socio-economic spectrum for people of color. This means that regardless of income, health disparities are realities for non-Whites.
And then there is the political pandemic. In this most divided time, we need not politicize the other pandemic struggles. It is unconscionable to turn elements of the coronavirus and its eventual amelioration into political toys. Spinning the economic pandemic that has already furthered the chasm between the haves and the have-nots into campaign rhetoric does little to help those who are struggling the most. And trying to unravel the complex race pandemic by political pandering is insulting and non-productive.
If that were not enough, we add several weather pandemics as California wildfires destroy large swaths of acreage and Hurricane Laura's recent destructive trek through southeastern Texas and western Louisiana highlighted one of the most active hurricane seasons ever.
This summer has brought unique challenges, particularly the racial tensions in the midst of these many pandemics. Nonetheless, it should be noted that the physical distancing has not removed our social connectedness. We remain intricately linked one to another through our family and friends; through our respective academic and civic institutions; and through a variety of organizations.
Our colleges and universities' common pursuit of knowledge and equally compelling pursuit for justice never cease. This is witnessed by our constant need to explore new concepts, new ideas and new perspectives along with a journey to find truth and righteousness. As such we join with others who work to bring about an end to the systemic racism that allows acts of violence to occur by those sworn to protect and serve as well as others.
As we navigate the intersections of these various pandemics we do so advisedly. Higher education is primed to further the discussions, to produce the research and to challenge the status quo until we have reduced and subsequently eliminated any further names from being added to the aforementioned roster, closed the widening gap of health disparities, created mechanisms to reduce the economic burdens of the poor and so much more.
Once again, in these most difficult times, we stand together and we stand for one another. There has never been a more resilient people than us. Much like Miller reminds in his song,
" … Still that hope that lies within is reassured!"
Dr. Dereck J. Rovaris Sr. is the vice provost for diversity and chief diversity officer at Louisiana State University.
This article originally appeared in the September 17, 2020 edition of Diverse. You can find it here.