As Virginia Tech University approached its Aug. 24 planned hybrid opening of the fall semester, the institution's leaders were closely monitoring COVID-19 outbreaks and responses on other campuses as well as assessing their own situation.
A series of missives appeared on the university's website from Dr. Tim Sands, Virginia Tech's president, in the uncertain days leading up to the opening, commending and thanking "Hokie Nation" for "meeting every challenge COVID-19 has thrown at us. It hasn't been easy, but thanks to you, we have the opportunity to move incrementally toward more normal operations."
Sands defended the decision for the hybrid approach, a combination of in-person and remote classes, explaining that a fully remote opening would result in up to $210 million in additional expenses and lost revenue. But, he stated, "we will move to remote operation if public health considerations dictate."
On Aug. 20, just four days before the official opening, Virginia Tech Dean of Students Byron Hughes announced that the university had suspended seven students as a result of certain incidents that were not detailed.
However, an Aug. 18 update from Sands stated that five cases of COVID-19 had been reported. "Of the 3,663 individuals tested between Aug. 9 and Aug. 16, we have one true positive and four positives from students who had previously confirmed SARS-CoV-2 infections," Sands stated in the update.
The university planned a combination of in-person and online classes and 8,600 students were expected to reside on campus, arriving over a 10-day period. All on-campus students were required to be tested for COVID-19 before Aug. 24.
Sands also said "the experience of other institutions" confirmed an earlier concern he had expressed. "Our greatest risks are off-campus social gatherings without face coverings, physical distancing, or adequate ventilation." At the time, the University of North Carolina at Chapel Hill had abruptly reversed its opening and switched to all-online classes after more than 130 new cases were reported, and scores of other schools were having similar problems in part due to off-campus parties and other large gatherings.
"I know how difficult it is to maintain the necessary discipline," Sands wrote in his message to the campus community. "But this pandemic will end, and there will be a day in the not-too-distant future when a degree of normalcy will return." He added that those who host or attend gatherings that could lead to an outbreak of COVID-19 would be held accountable through a city ordinance and through the university's student conduct process.
On Aug. 19, Virginia Tech launched its COVID-19 Dashboard to keep the public informed about the number of COVID-19 test results and the number of students in on-campus isolation spaces.
Uncertain days ahead
In late August, the university cancelled its baseball season — having played its last baseball game in March before the shutdown. At a virtual press conference in August, football players indicated that they were uncertain about the upcoming season while awaiting word from the NCAA.
Several football players said they weren't upset about the possibility of playing without fans in the stadium even preferring the additional safety. Redshirt senior Divine Deablo said that at a recent players meeting, older players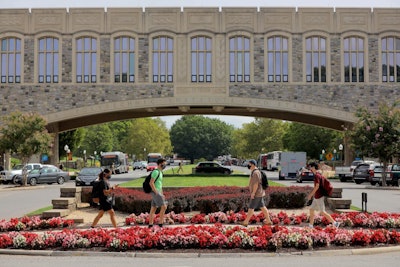 stressed the importance of following the rules.
"We talked about how serious we've got to take this season, and, if we want to play, we've got to be smart off the field, not just on the field," Deablo said, adding, "I'm not really worried about the older guys I just had to get the message to the younger guys since its their first year in college and they may want to have fun but they gotta know that at least for a semester we gotta be smart."
Virginia Tech officials are also focusing on the mental well-being of the student body given the turbulent times and confusion over health issues. As the site of one of the nation's deadliest mass shootings — the 2007 massacre that left 32 people dead and 17 wounded — COVID-19 is its latest challenge.
"We are very cognizant that well-being is a critical issue to student success; in fact, in [the] last five years we have invested $3.1 million in new resources for frontline support and clinicians for our students," Dr. Frank Shushok Jr., vice president for student affairs, tells Diverse, noting that the Princeton Review recently ranked the VT counseling center number one in the country. "We think that well-being has got to be integrated into our entire culture."
Equity and justice
Shushok explained that many of the wellness and mental health efforts are taking into account the unique differences of the student body. Shushok highlighted the importance of creating an environment and culture that accounts for the reality that students are not homogenous in their backgrounds. According to Shushok, this year's freshman class is the most diverse in Virginia Tech's history.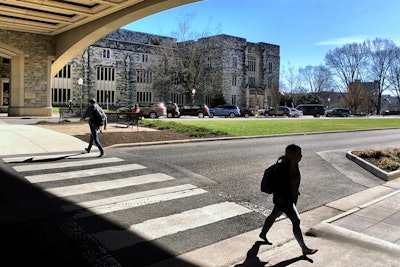 "Our focus on inclusion has to hit every level of the institution," Shushok says. "We have to look at policies through the lens of inclusion, we have to look at the physical environment and we have to look at training experiences of our faculty, staff and the climate that we create for our students."
In the aftermath of the death of George Floyd in Minneapolis police custody earlier this year and the subsequent weeks of protest, the student government association called upon university administrators to establish a task force to initiate changes "for promoting, supporting, and protecting students of color, especially those in the Black community."
In an effort to make the campus climate more welcoming for Black students, the university recently renamed two residence halls previously named for Claudius Lee and Paul Barringer, who had documented White supremacist backgrounds. Both buildings were instead renamed for African Americans who helped break racial barriers on the campus — actions that Shushok says send "a very encouraging message to many of our students from underserved backgrounds and students of color that we are serious about our efforts toward inclusion."
Overall, he suggests that the success of the fall semester will depend on students.
"We certainly are scenario-planning, and we believe that we have planned and coordinated the very best that we can," Shushok says. "But the most important variable is the extent to which everyone, especially our students, complies with public health guidelines."
This article originally appeared in the September 17, 2020 edition of Diverse. You can find it here.