While many talk of wanting a return to normal after COVID-19, the National Urban League (NUL), one of the nation's oldest civil rights organizations, is advocating for a "new normal," one that is more inclusive and equitable than before coronavirus.
Its recently released annual report, The State of Black America, lays out "three pandemics" that devastated communities of color in 2020-21: racial inequity in the economy, health care, and public safety. Yet the report also outlines ways forward, including for higher education.
"The report is a call to action," said NUL president Marc H. Morial in an interview with Diverse. "To take the momentum, the energy, the determination of 2020, which we saw in the streets, we saw in the suites, we saw in the ballot boxes, and convert that energy into an effort to attack structural and institutional racism for a new, inclusive normal."
With research partners at the Brookings Institution, the Johns Hopkins Center for Health Equity, and the Center for Policing, NUL's publicly available report analyzes how COVID-19, police violence, and an economic crisis amplified underlying structural racism.
The report's findings note that an ongoing racial wealth gap, alongside steep housing costs and high unemployment, left Black Americans especially vulnerable to the economic collapse in the wake of the pandemic.
"We're trying to undo about 400 years of slavery, segregation, and institutional racism, or what I call Jimmy Crow," said Morial, the former mayor of New Orleans. "We had Jim, then we had James [Crow]. James was sophisticated. He pretended not to be racist. But today we have Jimmy. Jimmy tries to stage coups at the Capitol. Jimmy thinks equality is a zero-sum game. He looks at a Black person with a job and thinks he got it over a more qualified white person. He doesn't understand the universality of rights. Jimmy is as bad as James if not worse."
Among proposed solutions to the racial wealth gap, an essay in the full report argues student debt should be cancelled. Colleges and universities, once the great equalizers, "have failed to live up to their promise for too many graduates," wrote Ashley Harrington and Wade Henderson, the essay's authors.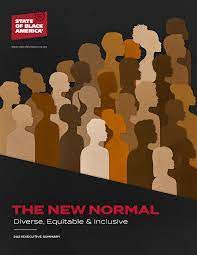 "You can't change what you can't measure, so having data that helps describe the circumstances in which you live is incredibly important," said Henderson, who is the interim president of the Leadership Conference on Civil and Human Rights. "Data lets you establish benchmarks and goals to perpetuate change. What we're looking at in the data is how do we close the racial wealth gap between Blacks and whites? The Pew Research Center said whites have 20 times the wealth of Black Americans."
The Federal Reserve reported Americans owe a collective $1.7 trillion in student loans, second only to mortgages. People of color disproportionately bear this student loan debt, according to studies Harrington—the federal advocacy director and a senior counsel at the Center for Responsible Lending—and Henderson cited in the report.
"We must start thinking about investments in the future of higher education," said Morial. "The GI Bill created a mostly white middle class by making college affordable, then the baby boomers built that wealth. I often ask business people, did your daddy or granddaddy get educated on the GI Bill? Many of them did. But you need to see that pipeline of progress to understand that not everyone is starting on second base."
To Morial, the Biden administration has promising ideas on higher education reform, such as student debt forgiveness possibilities. Yet more needs to be done.
"We're on the brink of a renaissance for many HBCUs. We're seeing the beginnings of new support and interest in them," said Morial of recent multimillion-dollar gifts to several Historically Black Colleges and Universities. "That's positive, but that support needs to be sustained. You also still have many institutions saying the right things, but they have got to follow through. Like recruiting more Black students. Or providing more support to disadvantaged students."
As for attaining racial equity across society, not only in higher education, Morial remains hopeful with a long view.
"We need to have a sense of urgency, but we can't expect to change the world in one year," he said. "It will require a lot of intellectual and political firepower."
Jennifer Jones Austin, CEO of the Federation of Protestant Welfare Agencies, agrees.
"We have to appreciate that for so long we have been made to feel that racism is one individual's beliefs and attitudes to another. We did not center on the system itself," she said during a panel held last week to discuss the report's findings. "We did not center on the fact that this society is built on the premises of white supremacy. The laws, the policies, the practices all flow from that."
Rebecca Kelliher can be reached at [email protected]