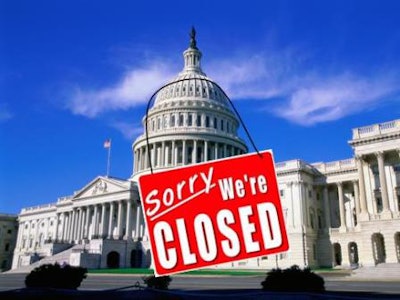 The final details had been set for this month's ambitious gathering of some 4,000 students and academics expected to participate in The Society for Advancement of Hispanics/Chicanos and Native Americans in Science (SACNAS) convention in San Antonio.
Aspiring students from across the nation in the STEM sciences were to make presentations that would be heard by officials from federal agencies and private companies. Exhibitors from governments, universities around the globe and private employers were set to talk with students about the range of opportunities in the job market. Recruiters were set to have their radars on full blast, in search of talent.
Then, the federal government shut down, putting an immediate halt to funding that supports the SACNAS conferences and others in a variety of ways.
Thirty-eight exhibitors from federal agencies and 27 conference speakers, supported by federal funds, were forced to cancel their participation in the conference, SACNAS reported. More than a dozen Native American students—including undergraduates, post-baccalaureates, and postdoctoral fellows—scheduled to "present their research, share their experiences, and serve as mentors at the conference" were also forced to scratch their plans, SACNAS said, noting that the federal funds that would have helped the students to participate have been frozen.
NIH Administrator Clif Poodry, Ph.D., was unable to speak as the gathering's keynote luncheon speaker because the government shutdown put him out of work.
"The inability of government representatives to share their critical Information with our students is a great loss, as is the inability of government-affiliated students to attend and benefit from this conference," said members of the SACNAS board of directors in a statement at the start of the conference.
"SACNAS students will not learn about opportunities to carry out research in our national laboratories, at the National Institutes of Health, at the National Science Foundation, and elsewhere," continued the educators. "They will not hear about essential fellowships for their education and jobs to serve our country."
The SACNAS experience is one example of how the federal government's shutdown, now in its second week, is impacting much of the higher education sector in numerous ways.
While most universities say they have felt little, if any, impact of the shutdown to date, seasoned analysts say those opinions largely reflect the fact that the main source of federal funding—tuition aid—is still uninterrupted despite the shutdown. The Office of Student Aid, the small agency that handles federal financial aid, including Pell grants and Parent PLUS Loans, is one of the few Department of Education units still open for business in an agency that is said to be 94 percent closed.
That bit of good news is tempered, however, by the wide range of less high-profile actions due to the shutdown and subsequent furloughs, others note.
Howard University, for example, already facing a $22 million cut in its annual federal allocation of federal operating funds as part of the stalled 2014 fiscal budget pending in Congress, is now concerned about when its hospital and health services will be reimbursed for services to federally insured Medicaid patients.
All seems normal at historic Tuskegee University, except for the three National Park sites associated with the institution, including its Tuskegee Airmen site, that have been closed to tourists since the Park Service employees have been furloughed.
Some institutions across the country are wondering when they will be paid by the District of Columbia for students at their institutions, called "DC Tag students," whose tuition is paid by the District government.
Delaware State University was just about to announce receipt of a federal grant worth several hundred thousand dollars that will go toward the launch of a new research program. As the final script was being written, the university was advised not to discuss the plan publicly until further notice.
"I was excited about announcing it because it will be a new area of research for DSU," said Delaware State Communications Director Carlos Holmes. "We received an email from the federal grant agency that directed us not to publicize it until further notice."
Laura Robles, acting associate vice president for research and funded projects at California State University, Dominguez Hills, echoed Delaware State and numerous other institutions. She said the shutdown has affected her office's ability to seek new research grant opportunities and make inquiries about existing grants awarded to the university. "Instead, [we] encounter alert messages about the shutdown on governmental funding agencies like the National Institutes of Health Electronic Research Administration site," Robles said.
Indeed, with the National Institutes of Health and other major grant making agencies closed and their employees on furlough, no new federal grants have been awarded since September 30 (the end of the federal government's last fiscal year), no applications are being reviewed and no solicitations for grant applications are going out, noted a veteran higher education official.
Meanwhile, all of the White House "Initiative" offices, which are part of the Department of Education, have been shut down and their staffs furloughed, including the Initiative on Faith Based Partnerships to HBCUs, Tribal Colleges, Educational Excellence for Hispanics and the Initiative of Asian Americans and Pacific Islanders. Even the Department of Education's website has been idled. A note on the site states it will be updated once the government resumes business. The Office of Civil Rights is also closed, halting enforcement of Title IX.
"We are managing at this point to continue operations," said the president of one prominent university, echoing the sentiments of several university administrators interviewed. "As we look further down the road, we do have reason to be concerned, if it [the federal shutdown] is not resolved."
The university official reflected the sentiments of several peers in asserting institutions might get through a brief government shutdown, but with a little damage. Should Congress fail to act on raising the federal debt ceiling by Oct. 17, all bets are off, the official said.