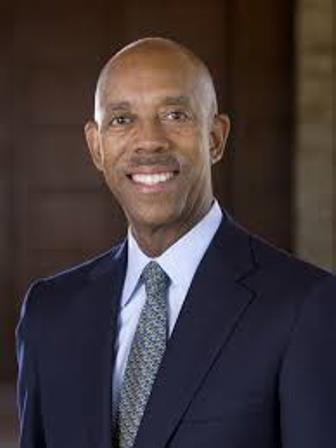 Dr. Michael V. Drake, the current chancellor of the University of California, Irvine, has been named president of Ohio State University, making him the first African-American to lead the state's largest university system.
The decision to recruit the trained medical doctor to lead the 63,964-student campus headquartered in Columbus was greeted with excitement by faculty, administrators and students.
"The hiring of Dr. Michael V. Drake as The Ohio State University's 15th president is monumental," said Dr. James L. Moore III, associate provost of diversity and inclusion, director of the Todd Anthony Bell National Resource Center on the African American Male and the EHE Distinguished Professor of Urban Education at OSU. "As one who believes deeply in the mission of Ohio State, I stand ready to assist Dr. Drake and his team with helping the institution continue to be a major force in Ohio and beyond."
The OSU board of trustees voted yesterday to formally accept the recommendation of an 18-member search committee. They offered Drake the job, ending a six-month search to replace Dr. E. Gordon Gee, who retired last July.
Drake, 63, will begin his new post on June 30.
"He is exactly the right leader at the right moment in the university's history as we address the challenges of affordability and access, while building on the already strong momentum we have generated at Ohio State in increasing the university's academic excellence," said board chairman Robert H. Schottenstein.
Accompanied by his wife, Brenda, at the board meeting yesterday, Drake said he was thrilled to become the 15th president of the 144-year-old institution.
"It is a tremendous honor to be asked to serve as president of The Ohio State University," he said. "The university embodies and defines the mission of a modern land-grant institution. In every sense one can imagine, the university is demonstrating national leadership in developing the model for public higher education. I am thankful for the board's confidence and eager to begin my duties."
Trustee Jeffrey Wadsworth, who spearheaded the search committee, said that he and other members were focused on finding a forward-thinking leader who could further the university's progress in teaching and learning, innovation and research, outreach and engagement and resource stewardship.
"The charge to members of the Presidential Search Committee was to find a leader with vision, someone who could lead a highly complex organization, who had a deep understanding of university culture and superb leadership skills," Wadsworth said. "In Michael Drake, we have surely found that person."
Wadsworth said that, as chancellor of UC Irvine, Drake has helped to increase the institution's academic breadth and reach. During his tenure, he created the first new public law school in California in more than 40 years and successfully led the launch of several new programs in public health, pharmaceutical sciences and nursing science. The UC Irvine School of Education was also established under his leadership.
Administrators said that Drake will help guide Ohio State's ongoing $2.5 billion But for Ohio State Campaign, adding that a key component of the campaign is to provide scholarships and financial aid opportunities to ensure education is affordable.
Student leaders on campus applauded the board's decision.
"I think [Drake]'s a great guy, and I think he'll be a tremendous leader for Ohio State," said Josh Ahart, a senior and vice president of the Student Government. "I trust that the board and the Presidential Search Committee did a great job getting the best person possible."
Drake earned his undergraduate degree at Stanford University before enrolling in medical school at the University of California, San Francisco, where he began his teaching career.
Trained in ophthalmology, Drake spent 20 years on the UCSF faculty and authored five textbooks before he was appointed vice president for health affairs for the University of California system. In that role, he was in charge of academic program policy at the system's 15 health sciences schools.
In 2005, he became chancellor of UCI.
Drake has been lauded as a proponent for diversity. For many years, he has taught a freshman course on how the music of the 1960s contributed to the civil rights movement.
"Chancellor Drake's dedicated and passionate leadership has positioned UC Irvine for a bright future as a world-class research university," UC President Janet Napolitano said in a statement. "I personally will miss his wise counsel and camaraderie."
Jamal Watson can be reached at jwatson1@diverseeducation.com.