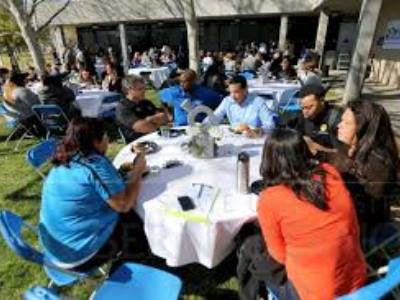 When organizers opened a new, student food bank at California State University, San Bernardino (CSUSB) about a year ago, they didn't know what to expect.
Would anyone show up? Or, would students succumb to fears of appearing cash-strapped rather than access the donated, non-perishable food and toiletries they needed? Did students even know about the pantry?
More than a dozen students shopped during the food bank's first week, resulting in officials declaring the project an immediate success.
CSUSB is one of a growing number of higher education institutions nationwide that houses a food bank on campus in response to the prevalence of food insecurity among today's student body. The trend coincides with ever-rising tuition hikes and increasing numbers of low-income college students everywhere. Also, countless families continue struggling financially because of effects from the Great Recession.
"It's becoming more and more common for students to have to decide whether to buy textbooks or to buy food," says Bryant Fairley, associate director for CSUSB's Office of Community Engagement, which oversees the food bank. "Knowledge is food for the mind. Without food for the body, learning is impossible."
Michigan State University is believed to be the first to establish a food pantry. By late 2008 — the year the recession took root — three other universities had launched their own, according to the Washington Post.
CSUSB opened its pantry at a time when, according to the Post, about 121 other campuses around the country were operating them. By December, 244 institutions were either running a pantry or poised to open one, according to the College and University Food Bank Alliance.
Some of these institutions, like CSUSB, enroll minority-majority populations. CSUSB's 20,000 students, for instance, are 57 percent Hispanic, 80 percent first-generation college-goers and 62 percent Pell Grant eligible.
However, food insecurity is also a problem at prestigious, flagship universities such as Penn State and at elite, private universities such as Syracuse, both of which run food banks. In addition to the pantries, some institutions have devised smartphone apps that alert students where free, uneaten food is available on campus whenever receptions and other events conclude. Some colleges let students donate leftover credits on their campus dining hall accounts to their disadvantaged classmates.
Food insecurity often goes hand-in-hand with homelessness. California State University, Long Beach assistant professor of social work Rashida Crutchfield is currently conducting a study to gain a better understanding of college students in the 23-campus Cal State system who experience housing and food instability. The study, commissioned by the chancellor's office, will include data-driven recommendations to address these problems.
"Students who experience homelessness are not required to identify themselves," Crutchfield says. "Because of the stigma associated with homelessness, they purposely hide their circumstances from those who might be able to help. There is a need for systems to be put in place at universities across the nation to find these students."
CSUSB's Fairley agrees. One of the food bank's earliest clients last year was a young woman who was discovered to be living out of her car. University officials helped her secure housing right away. She was the first of multiple homeless undergraduates whom Fairley and his colleagues have identified in the course of operating the food bank.
The pantry, named DEN for "Delivering Emergency Nourishment," does not deny service to any enrolled students, but is intended as a short-term answer for the needy.
Undergraduates who are social work majors conduct confidential, intake screenings of clients, some of whom enroll in a special student program at an off-campus, seven-day-a-week, community food bank in San Bernardino, which is east of Los Angeles. The interviews give the future social workers important experience in treating clients with dignity and referring them to other services for which they qualify.
But convincing students with chronic needs to access off-campus services is another matter, Fairley says, adding that he and his colleagues are currently trying to figure out how to coax them into taking the next step.
"They see us, they trust us," he says of the food bank's clients. "We are a safe space for them. We're not sure if it's pride, if they consider it a stigma in being seen at another food bank or venue."
The CSU food bank houses boxes of dry cereal, pasta and beans, along with personal care products like disposable razors. Currently, the pantry distributes about 40 shopping bags full of items weekly.
A companion program at the pantry distributes snack packs to prevent students from going hungry during the school day. Each contains a lunch-size, microwaveable entrée such as macaroni and cheese along with granola bars and cups of diced fruit that can fit into a backpack but none of which require refrigeration. About 50 snack packs are distributed weekly, which young people can pick up at the campus recreation center, minority student resource centers and the Educational Opportunity Program office.
"We recognize that students have different needs," Fairley says. "Not everyone needs a week's worth of groceries at a time."
The food bank relies on donations from students, employees and off-campus community pantries. Fairley says that, despite generosity and successful food drives, the food bank's supply of canned meats like tuna is usually not enough to satisfy requests.
CSUSB's food bank was conceived after Fairley attended a professional conference in 2013 focused on civic engagement. One of the other attendees worked at a college that ran a food bank — a concept Fairley had never heard of. The undergraduate student body profile of that institution was similar to that of CSUSB, which spurred Fairley and others into action.
San Bernardino public schools, where about 91 percent of students qualify for free or reduced lunch programs, are the biggest feeder to CSUSB, Fairley says.
The pantry initiative has spawned spinoff efforts on campus. At Thanksgiving, for instance, employees in the university's human resources division collected enough fresh and frozen foods among themselves — including a turkey — to donate an entire traditional feast to a disadvantaged student's family. The undergraduate, who was a food bank user, was among nine members of an extended family in their home. For Christmas, other employees adopted, so to speak, the families of several needy students by providing large food baskets.
When CSUSB advancement officials had an undesignated $500 scholarship to award, they consulted Fairley and his colleagues, figuring that a food bank client would welcome the money. They were correct.
"We have no shortage of need," Fairley says.