When Dr. Wei Yang came to the United States from China in 1991 as an international student after working as a physician and clinical epidemiologist after graduating from medical school, he originally planned to stay a couple of years after earning a Ph.D and gain some experience working in the U.S. "In 1996 right before I was graduating, I applied for a U.S. residency or green card as an outstanding scholar, which was approved in a few weeks," Yang said. "I had debated for several years how long I would work in U.S. then return to China, but the longer me and my wife stayed, the harder the decision to be made about when to go back. Especially after had two children born in the U.S." However, when he quickly realized that the cost of his education was higher than he anticipated, Yang – who was paying for his education on his own – began looking for assistantship opportunities, which ultimately led him to the University of Nevada, Reno (UNR).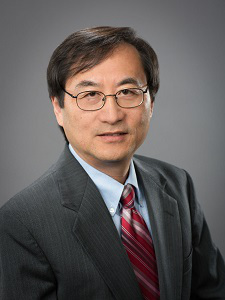 "The first time I heard about Reno and UNR was from a group of roommates who worked at Reno casinos for their summer jobs," he said. "UNR was the first school to offer me an assistantship, so I transferred from Oregon State to UNR [where] I obtained both my master's and Ph.D. degrees." As part of his original plan, Yang said he wanted to continue his clinical practice while simultaneously doing some type of work in public health after completing his doctoral studies. But when he got his first job in the U.S. as the Nevada State biostatistician and director of the State Center for Health Data and Research at Nevada State Department of Health and Human Services, that plan fell through. Yang first joined the UNR faculty in 2007 and has served in several roles since then, most recently as a professor of epidemiology and biostatistics and lead of the Division of Epidemiology, Biostatistics and Environmental Health in the School of Community Health Sciences. "I think at that time environmental [health] was a big challenge with everyone, with a different community, internationally the environmental challenge to the human health is very important," he said. "And with my background of the clinical science and nutrition and plus my epidemiology training, I think that that's a good combination of environmental health and health using the epidemiological skills." Some of the courses that Yang teaches include public health data programming and health informatics. He has also previously taught courses in environmental epidemiology and cancer epidemiology. "The most attractive part of working as a professor is the university provides a great platform for scholars to establish their career," Yang said. "Compared to other jobs I had, the current job has been more flexible to [allow you to] choose and work on projects and topics you have passion on." Yang is also the executive director of the Nevada Center for Surveys, Evaluation and Statistics (CSES). The center is comprised of three previous research centers: Nevada Center for Health Statistics and Informatics (NCHSI), Center for Research Design and Analysis (CRDA) and the Center for Program Evaluation (CPE) that offers unparalleled knowledge and expertise not found in the general business community. Supported by grant funding, CSES has a half a century combined history at the university as a leader in data analysis that provides research and survey design, program evaluation and statistical analysis to academic researchers and organizations across all academic disciplines. The center has "more students working as staff members than researchers", Yang said. "We have 27 staff members, with 17-18 students as the staff there. Some of them are graduate assistants, some of them are just hourly workers, especially our calling center. The phone interviewers there are [mainly] students," he added. As executive director of CSES, one of Yang's key responsibilities is to "make sure we have the external support to keep the center running and produce the high quality deliverable services" to its clients, he said. He is also currently the only tenured professor working on all three systems. Currently, the center has over 10 ongoing projects, Yang said. The three most notable ones, Yang said, is the Nevada Behavior Risk Factor Surveillance Systems (BFSS), "which is very famous in the public health area." The second noteworthy project is the Youth Risk Behaviors Survey. This survey "covers every middle school and high school in the state of Nevada," he said. "We do the survey every other year to the 230 schools." The last notable project is Pregnancy Risk Assessment Monitoring System, Yang said. "It's a plan, we do the study the new mother who has [potential] risks … with birth, we ask their health needs, health status and health behaviors. So this is the majority public health surveillance system." When he's not working, Yang enjoys boat fishing. "I have a fishing boat, if I have time I will eventually find a nice place around the Reno area by lakes – boat fishing is my big hobby," he said. Looking into the future of the newly-merged center, Yang hopes to expand its research support services. "[I hope that] we can provide more comprehensive research support to researchers cross the campus and the community. At this stage of my career, it is my enjoyment to dedicate more efforts to help on success of other researchers."
Monica Levitan can be reached at mlevita[email protected]. You can follow her on Twitter @monlevy_.
This article first appeared in Diverse Health.