Before the COVID-19 pandemic hit in early 2020, the U.S. was already grappling with a shortage of nurses and nursing faculty. As many hospitals continue to be overwhelmed in the pandemic, particularly in areas with low vaccination rates, these twin shortages of nurses and those who train nurses are prompting nursing schools nationwide to work urgently and creatively to meet community needs.
"We first have to separate the fact that we were beginning to move into a nursing shortage even before the pandemic started," says Dr. Martha Dawson, president of the National Black Nurses Association and an associate professor of nursing at the University of Alabama at Birmingham's School of Nursing. "The pandemic just made it more transparent to everyone else."
The American Nurses Association, a national organization dedicated to the profession of nursing, predicted that the U.S. will need 1.2 million more nurses in the next year to not only meet demand but replenish the nursing workforce. COVID-19-related stress pushed some nurses to leave the field. But as Dawson points out, most of today's nurses are also older and about to retire.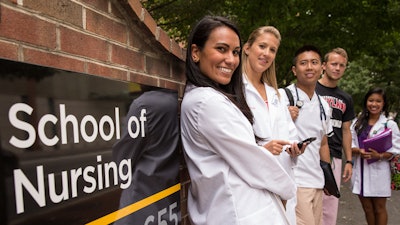 "It's projected that, between now and 2030, we'll have a large number of baby boomers leaving the profession. This is just around the corner," she says. "And you can't produce more nurses if you don't have faculty, but the faculty population is even older than the nurses. We can't fix the downstream problem of needing more nurses until we address the problem of educating more nurses."
According to recent projections from the U.S. Bureau of Labor Statistics, the registered nurse (RN) workforce is expected to jump from about 3 million in 2020 to 3.3 million in 2030. Yet the American Association of Colleges of Nursing (AACN), a professional association for academic nursing, reported in a fact sheet on the nursing faculty shortage that one-third of today's nursing faculty workforce in baccalaureate and graduate programs is expected to retire by 2025.
RNs must be licensed and can typically take one of three education paths: a bachelor's degree in nursing, an associate degree in nursing, or a diploma from an approved nursing program. A bachelor's degree, however, tends to open up more career opportunities to RNs, according to many nursing experts.
Dawson says the nursing workforce has another problem. It is a mostly White, mostly female profession. Nursing schools have been responding not only to a shortage of nurses and faculty but to the need for nurses to better reflect the different backgrounds of the patients they care for.
"There has also been plenty of research that has found there are better patient outcomes when the nursing workforce is more educated and more diverse," says Kate Tredway, academic director and clinical instructor at the University of Illinois Chicago (UIC)'s College of Nursing. "We know that the nursing shortage is horrendous. So, we have to create avenues that get people who are not nurses all the way to becoming bachelor's-prepared nurses."
Forging pathways to spur diversity
UIC is hoping to tackle both the nursing shortage and the need to get more people of color into nursing through a new dual admissions program with the City Colleges of Chicago (CCC)'s Malcolm X College. This allows students to earn an associate degree in nursing at Malcolm X College while also pursuing a bachelor's degree in nursing through UIC.
"It's not rocket science," Tredway says. "You can create pathways where students can use resources that already exist, such as associate degree programs at community colleges for nursing, and encourage them to go on to a bachelor's degree. Why not make that pathway smooth and seamless?"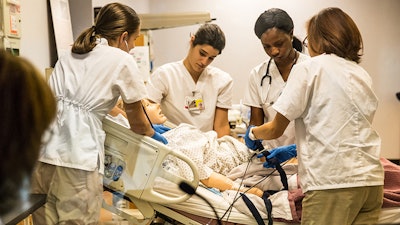 Dual admissions programs let students finish their bachelor's degrees much faster, and they are often less expensive than a typical, four-year bachelor's program. Students in the UIC pathway are mentored along the way to ensure that both the associate and bachelor's programs are working together. In addition, Tredway says community colleges typically enroll more students from historically underrepresented backgrounds. Partnerships with community colleges like Malcolm X College can help create a more diverse nursing student body which can lead to a more diverse nursing workforce.
Dr. Adrianna Nava, president of the National Association of Hispanic Nurses, says higher education needs to create more entry points and pipelines that ensure diverse students not only have access to opportunities but that they are supported once they get into their places of education. The pandemic only heightened that need.
"The most obvious form of support is offering scholarships or other forms of financial aid to students, because a lot of Latinx students in particular need to work while in school," says Nava. "But we also need to have greater representation of faculty who are close in background to the population they serve. If you as a student see someone you can relate to in the program, that can help you navigate barriers you sometimes didn't foresee, especially if you're the first in your family to go to college."
Like Nava, Dr. Jane Kirschling, dean of the University of Maryland School of Nursing, notes the importance of diversifying nursing faculty while also building up that faculty. At the University of Maryland, Kirschling says that about 42% of full-time and part-time faculty identify as racially or ethnically diverse, compared to the national average of about 20%.
"There is a clarion call to the nursing profession to become much more involved in the social determinants of health across racial inequities and backgrounds," she says. "Just like patients want to see people who look like them caring for them, so do nursing students around who is teaching them."
COVID complications
The University of Maryland School of Nursing had until recently allowed students to graduate about three to four weeks sooner than scheduled at the request of the state's governor, in response to the COVID-19 pandemic. But Kirschling says that this fast-track approach was "a short-term solution" and will no longer be continued. Shaving a few weeks off a semester that is only 14 or 15 weeks long could be tough on students.
"It raises the stress level for students, as they also have to sit through a licensing exam," says Kirschling. "And our students carry a lot of responsibilities. Many of them are working. Many of them have families."
Kirschling says COVID-19 will likely be around in some form for a while, so "what we need to do now is return to some sense of normalcy and predictability," she says. To her and other leaders at nursing schools, it is time to recalibrate how to respond to this new phase of the pandemic.
In an email, Dr. Juanita Zapata Flint, vice provost of Dallas College's School of Health Sciences, wrote that practitioners may need to shift what they see as normal. "COVID is still somewhat of a mystery," she says. "As nurses, we need to stay current on all new evidence-based research that impacts nursing care so that we can educate patients and the public. We have a responsibility to know facts and truths about this virus and illnesses that are on the radar. We will never return to a 'pre-COVID world.'"
The University of Maryland School of Nursing has turned to other strategies to help its healthcare partners. This has included granting students their preferred practicum placement at a hospital if the students commit to working at that hospital when they become an RN. This lets students adjust sooner to their workplace before they graduate while also helping hospitals address their nursing shortage. Kirschling says the response so far has been positive.
Solutions to a shortage
Dallas College is one of the largest community colleges in Texas, and its School of Health Sciences will soon offer a bachelor's program in nursing beginning in fall 2023. Dallas College has an associate degree program in nursing already, and it added a bachelor's program to tackle the nursing shortage. According to a recent study by the Health Resources and Services Administration, which is a part of the U.S. Health and Human Services agency, there will be a shortage of most types of nurses in Texas in about ten years.
But limited nursing faculty has continued to pose a problem at the college.
"We turn away qualified applicants every year due to lack of faculty," Flint says. "We need to find ways to allow for joint faculty appointments, partnering hospital nurses with advanced degrees to also teach."
With more people calling on the nursing profession to recruit more faculty and to train more nurses, Dawson emphasizes that this moment in the pandemic could be a prime opportunity to diversify the nursing profession.
"I really believe that we need to embrace those underrepresented groups and minorities if we really want to address that nursing shortage," says Dawson. "There is a great opportunity to focus on this critical issue through the lens of diversity."
This article originally appeared in the February 17, 2022 edition of Diverse. Read it here.