Yale University faculty and staff will not be mandated to get a second booster shot before returning for spring semester, Yale Daily News reported.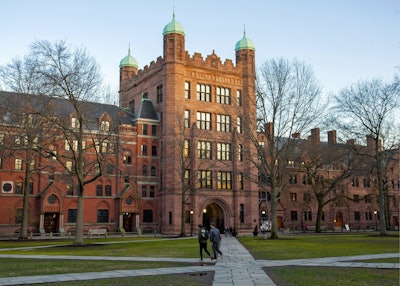 To note, students – undergraduate, graduate, and professional students – will be required to get a second booster shot, the school announced Oct. 27. Students may seek exemptions on medical or religious grounds.
"We are requiring students to receive the bivalent booster because their circumstances are somewhat different from those of faculty and staff, especially with regard to congregate housing and participation in large gatherings," Yale President Dr. Peter Salovey said in an email.
To be "up to date," according to the CDC, one must receive a primary vaccine series along with the "bivalent" booster, where the new booster protects against both the original and several variant strains of COVID-19, which has changed over time. Only 5% of eligible Americans received a new booster shot by the end of October, according to Scientific American.
"We are strongly encouraging faculty and staff to receive the bivalent booster, but are not changing the current vaccination requirements in place for faculty and staff," University COVID-19 coordinator Stephanie Spangler said in an email.
Last year, Yale Provost Dr. Scott Strobel said that Yale weighs legal questions surrounding personal choice and employee compliance along with employee responsibility to ensure community health. Yale also holds agreements with unions, making it more difficult to mandate such changes to university policy.
Faculty have voiced mixed reactions to the move.
Yale English professor Dr. Katie Trumpener, who is immunocompromised, said that she was aware of how crucial large-scale vaccination is to keeping people as safe as possible and that it would be optimal if everyone was up to date on the vaccines. Yet, she said she appreciated that the school made booster shots available to faculty and students early on during the pandemic.