The current state of health equity and medical education were key topics at a webinar on Tuesday sponsored by Rutgers University's Samuel DeWitt Proctor Institute for Leadership, Equity, and Justice. The Proctor Institute – housed in the Rutgers-New Brunswick Graduate School of Education – hosted the event in honor of Black History Month.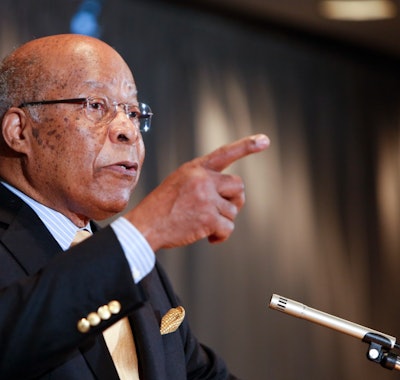 The webinar, "Fireside Chat: A Half Century of Equity in Medicine," kicked off with a discussion with Dr. Louis W. Sullivan, former Secretary of the U.S. Department of Health and Human Services (HHS), founding dean and now president emeritus of the Morehouse School of Medicine, and co-founder of the Association of Minority Health Professions Schools (AMHPS).
Sullivan discussed his latest book, We'll Fight It Out Here: A History of the Ongoing Struggle for Health Equity, which chronicles the history and impacts of AMHPS.
The inspiration to form AMHPS came to Sullivan at a National Medical Association meeting when he was developing the medical school at Morehouse College in 1975. At that time, there were two predominantly Black medical schools in the U.S., Howard University's College of Medicine and Meharry Medical College, he said.
"I was very surprised that I found myself in a room of concerned people," Sullivan said. "They wanted to know what the impact of this new school would have on the two existing medical schools, Howard and Meharry. Would we be diluting their funding by coming into being? I had to explain that what we hoped to do was to enhance the number of African Americans and other minorities going into medicine and we certainly did not intend and would work to make sure that we did not dilute the funding.
"As the result of that meeting, we thought, rather than working in isolation, perhaps we can form an association and work together to expand the level of funding for these schools. Because at that time – and still today – predominantly Black higher educational institutions are not sufficiently funded."
AHMPS – founded in 1976 – now has 12 members. It ranges the disciplines of medicine, pharmacy, dentistry, and veterinary medicine. Members include the likes of Howard's College of Medicine, Charles Drew University of Medicine and Science, Morehouse School of Medicine, and Tuskegee University's College of Veterinary Medicine.
"Because of the accomplishments of this association and the benefits of institutions working together, we wanted to record this for history," Sullivan said. "We wanted to be sure that this was down in our records for the nation, of something that had been done by minority health profession schools. They improve the health system, increase diversity in the health professions, bring services to those in inner cities and rural areas who are not being well-served by the system."
After the one-on-one discussion with Sullivan, three other experts in the medical education field joined the panel: Ronny Lancaster, former senior vice president and COO at Morehouse School of Medicine; Dr. Wayne Riley, president of SUNY Downstate Health Sciences University; and Dr.Jeanne Sinkford, dean emerita of the Howard College of Dentistry.
One of AMPHS's greatest achievements is how the organization and Sullivan laid the groundwork for what would eventually become the National Institutes of Health's (NIH) National Institute for Minority Health and Health Disparities (NIMHD) in 2010 via the Affordable Care Act, Sullivan said. The institution was founded as a center in 2000.
Other achievements include programs to bolster research infrastructure and scholarship assistance, Lancaster said.
"We created a research endowment program, which not only helps to build support for research in our institutions but added a measure of fiscal stability, which our institutions had never enjoyed and frankly without which has faced and would have continued to face existential challenges," Lancaster said.
The current state of health equity is still in need of improvement, Riley said.
"Only 5.7% of African Americans are physicians," Riley said. "Something Lou, I, and Ronny are terribly worried about [is that] we just don't have enough Black and Latino administrators of health systems and health organizations. ... Sure, we've made some progress. But when you measure it against the amazing progress that the rest of the medical establishment has made, it's still not enough."
Sinkford described the current health systems as "good for those who can afford it," but added that so many people still do not have access to quality care.
The panelists also discussed what they would change about medical education as it stands now. One common answer was student debt.
"When I was at Morehouse School of Medicine, I know the debt burden of the average graduating student was well into six figures," Lancaster said. "Primary care physicians take care of 80% or more of what ails the average person. Primary care physicians are not compensated at the higher end of specialties. And so what that does is it drives primary care physicians and others into sub-specialty care. The consequence of that is that it reduces access to the very populations that we're committed to serving."
Sullivan also said that more scholarships are needed for medical students.
"When I was a medical student years ago, I had scholarship support. So whatever I've been able to achieve is really because there was scholarship support for me," he said. "So we need to do that if we're going to have poor students and minority students becoming health professionals."
Funding is important, he noted, "because, among other things, we need to develop better trust, communication, understanding between our health system and our minority populations so that minorities will not be intimidated by the system," he said. "Part of being healthy means having a health-literate population and a population that trusts the system. The COVID pandemic has shown the lack of trust in great detail."