The University of Houston (UH) has received $20 million from UH alumnus and longstanding benefactors Andy Gessner and his wife Barbara to support the nursing workforce amid a significant labor shortage.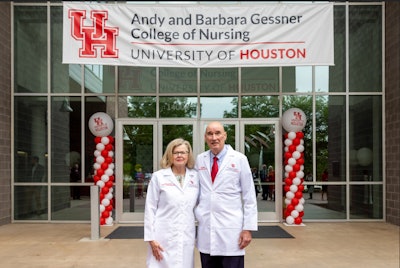 "The silver tsunami is coming," Barbara Gessner said. "We are certainly going to need more nurses as the population gets older, so the medical profession will be put to the test. It's always been an honorable profession, and we believe in that tender, compassionate care that nurses provide."
The gift to the UH College of Nursing is meant to strengthen nursing education and research, fund scholarships and fellowships, and increase the nurse workforce. It will create three endowed professorships – two will be matched one-to-one as part of the UH's "$100 Million Challenge." And additional endowments funded by the gift will go towards research, nursing education and clinical learning, scholarships, graduate student fellowships, adjunct faculty support, and marketing and communications for the nursing school.
"We believe in nurses and we need more of them right now," said Andy Gessner, who graduated in 1968. "We're all going to need a nurse at some time in our lives, and there's just not enough in the workforce or being educated for the future. The primary intent of our gift is to make more nurses available when we need them, now and in the future."
The college itself has been renamed the Andy and Barbara Gessner College of Nursing. The Gessners' support was inspired by the caring nurses they know, including their late mothers.
Approximately 100,000 registered nurses in the U.S. left the workplace due to the stresses of the pandemic, according to a 2022 survey by the National Council of State Boards of Nursing.