New England College (NEC) is partnering with the New Hampshire Department of Health and Human Services (DHHS) to address workforce shortages in mental health services, the Concord Monitor reported.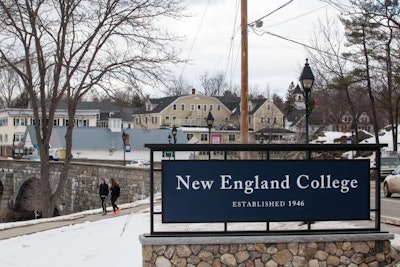 The school created a community mental health B.A. program – set to start in the fall – in which students will receive classroom education and two paid working experiences or co-ops at mental health facilities. Students will work 20 hours a week for approximately $20 an hour.
"I am very pleased to connect those NEC students keen on serving the mental health needs of Granite Staters with those professionals around the state working so hard to address the growing challenges associated with mental healthcare," NEC President Dr. Wayne Lesperance said in a statement. "Our partnership with DHHS offers students a meaningful and defined career path where they will earn while they learn as they work towards graduation."
NEC will contract with 10 mental health centers that work with the New Hampshire DHHS.
"NEC students who work with us will help bridge the gap of a tremendous workforce shortage and help us fulfill our mission to promote the health and well-being of individuals, families and organizations," said Steve Arnault, vice president of clinical services, quality, and compliance at the Center for Life Management. "At the same time, these students will be prepared to more easily move into full-time work with a partner organization once they graduate from NEC."