Kansas City University (KCU) has launched its Harry M. Cornell Center for Dental Education, a response to addressing a growing dentist shortage, particularly in southwest Missouri, southeast Kansas, northwest Arkansas, and northeast Oklahoma.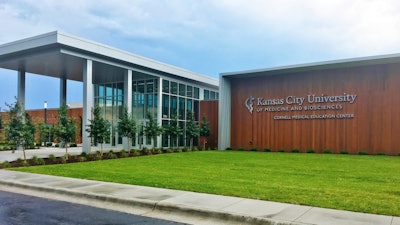 "We know poor oral health leads to poor overall health," said KCU President Dr. Marc B. Hahn. "In fact, poor oral health has been found to promote a host of other illnesses, including cardiovascular disease, diabetes, and even Alzheimer's. KCU is proud to lead an effort to erase disparities in oral health care and improve health outcomes for people in rural areas."
Missouri has an estimated shortage of more than 700 dentists, Oklahoma 166, and more than 100 each for both Arkansas and Kansas.
Instruction at the center – located on KCU's McIntire-Farber Campus – will focus on integrating basic sciences with clinical knowledge so students are prepared sooner to care for patients.
Students will have access to technology such as simulated patients, virtual reality, 3-D printing, intra- oral camera, digital teeth-scanning, and an Oral Health Center for hands-on learning through giving dental services under faculty supervision.
"Students will be treating patients in their second year of study," said Dr. Linda Niessen, founding dean of the College of Dental Medicine. "Faculty members share a strong desire to serve our community right away and will soon see individuals who have had difficulty obtaining needed dental care through referrals with local nonprofit agencies."