It's not enough to make statements. It's not enough to create working groups. It's not enough to pay attention to only some parts of the larger problem. When it comes to improving mental health equity on college campuses, more work just needs to be done, mental health experts said during a webinar Wednesday.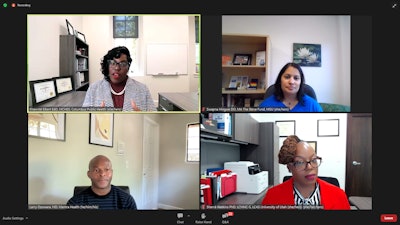 The panel discussion – hosted by higher ed mental health provider Mantra Health and the Steve Fund, which focuses on mental wellbeing for youth of color – was centered around how a major part of student success hinges on mental health, and how some communities may not be getting equal access to the resources they need. The event was hosted by Dr. Larry Ozowara, vice president of care delivery at Mantra.
"We start to address how the populations that we serve – and we look at the places that they live, work, play, and worship – and how they are able to thrive or sometimes just survive. We look at their race, their ethnicities, their service and access to languages, and the barriers that they face. Then, we can start to address equity from that lens," said Dr. Shawnté Elbert, chief health equity officer at Columbus Public Health.
"Mental health challenges [are] prevalent among students," said Dr. Swapna Hingwe, associate director of counseling and psychiatric services at Michigan State University. "But we also know that certain student groups face additional barriers in accessing effective care and resources."
To create inclusive and supportive environments where all students – including those from historically marginalized backgrounds– can thrive, advocates and those supporting this work cannot just focus on improving counseling centers, the panelists said.
According to three experts invited to the panel, more work is needed in community-building; collaborating with different school departments; reducing stigmas; offering diverse services for diverse populations; and enacting policy changes.
All in all, the issues calls for systemic change, they said. Quick-fire, short-term 'fixes' won't do. Instead of "putting out fires," advocates can instead view student mental health issues from a "population health" perspective, said Dr. Sherrá Watkins, associate vice president for student health & wellness at the University of Utah.
The work needs to start before students arrive on campus, Watkins said. Elbert added that it also needed to start before systemic change can even be pursued. Schools recruit students from diverse backgrounds but fail to recognize and learn from the histories that come with such backgrounds, Elbert said.
"We are recruiting students from inner cities and bringing them to our campuses without acknowledging the trauma that they are experiencing before they come to our campuses," Elbert said. "Before we can even start to reflect and strategize, ... I think we need to acknowledge what has impacted [students] prior to coming. We should have already engaged with some of the leaders within their community to see what has impacted those students and ... work with those community leaders to make sure their transition from home to our campus continues to be well-rounded.
"It's not enough to just bring them to our campus. I think it's quite unethical to bring them to our campus and then nothing further actually happens. It's not enough to just have your statement on your website."
Hollow words and working groups that result in inaction mean nothing, Elbert stressed. There has to be action. There has to be follow through.
"For me, what has been hard is that we've seen these students come, and then we wonder why they leave," Elbert said. "You didn't do the work on the front end."
Today's technological resources, such as Mantra Health, can help alleviate some of the shortcomings college campuses have faced when it comes to student mental health, Watkins mentioned.
Some schools – particularly very rural ones – struggle to recruit diverse health and wellness professionals, she said. But online mental health services can reach that far and "[provide] resources and services for our students to be able to receive clinical services from people that they identify with."
Higher ed institutions can also benefit from incorporating and basing their approaches on data, Watkins noted.
"Are you using your data correctly? Are you using your data to drive your approaches, your technology, how it's effectively used? And most importantly, when you're getting your data, are you disaggregating it with the specialized and historically marginalized populations on your campus?" Watkins asked. "[New data is showing that] our LGBTQIA populations are not being historically serviced continually on our campuses within our health and wellness realms. What does that look like in comparison to your campuses?"
Doing this work takes its time and its toll, Hingwe said. For those striving to improve mental health equity on their campuses and avoid burnout, she recommended finding and creating a support system of people who are just as compassionate and willing to put in the effort.
"It's marathon work," Hingwe said. "You have to pause and you have to be patient. And some of the work we do, we won't see the outcomes in our lifetimes. But we just keep doing it. We keep taking breaks, and then getting back in."