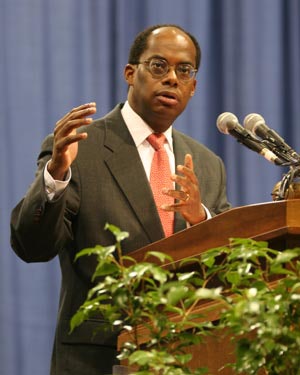 Dr. Roger W. Ferguson, CEO of TIAA-CREFF, says debt-laden current students and graduates' best hope might be tied to the improving economy, boosting wages and enabling them to pay off loans.
WASHINGTON ― Attendees of the Council of Graduate Schools (CGS) meeting last week were repeatedly exhorted to press for more legislative support for graduate institutions. Speakers warned that state-by-state divestment in higher education shows little sign of reversing ― and prospects of funding from the federal government are no rosier.
During the recession, states cut funding for institutions of higher learning. As one result, tuitions rose. Yet even as the economy is getting back on its feet, colleges and universities have yet to experience dramatic benefits or even a restoration of pre-recession level funding.
For example, after freezing tuition for three years, the University of California board of regents voted to raise tuition by 5 percent for the next five years in late November. Undergraduate tuition for in-state students is expected to rise to $15,664 by 2019 — or 27 percent.
Janet Napolitano, UC system president, said that they had waited too long for the state to step in with financial assistance. "The reason we're raising tuition is because the state has terrifically disinvested and we do not want to lose quality in this process," she said in the opening plenary of the conference on Thursday morning.
Yet according to Napolitano, tuition hikes are not the only solution. The former Arizona governor said that academics must promote their own institutions to legislators, explaining that there is an economic case to be made, even in fields outside of STEM.
"My experience has been that showing the economic impact of [education] is very important, so that we begin to change the conversation from the 'cost' to the 'investment,'" Napolitano said.
Others picked up on her theme.
"Energize the people you're going home to," Stanley Collender, executive vice president of Qorvis Communications, told the audience of professors, deans and administrators on Thursday. "Say, 'Look, the cavalry is not necessarily coming. We're going to have to do this ourselves.'"
Collender, who studies and follows the federal budget ― he has served on the staffs of both the House and Senate Budget Committees ― predicted that the next chance for meaningful federal budget reform in which colleges and universities might expect to see a benefit would be in 2019. He said that politicians would be unlikely to risk damaging their or their party's chances for the 2016 presidential election by attempting to restructure the budget.
Dr. Roger W. Ferguson, CEO of TIAA-CREFF, challenged his audience to become "ambassadors within the academy but beyond academia," on Thursday.
That was not his only concern. Ferguson addressed his concerns about the damaging effects of excessive student debt. Though future cohorts may hope to see new federal policies implemented that offer loan relief, he said, current students and graduates will most likely remain saddled with the debt they have accrued.
"The best is that the hope is that the economy continues to get better, that people get jobs, that wages go up, and they hopefully can pay off [their debts]," Ferguson said.