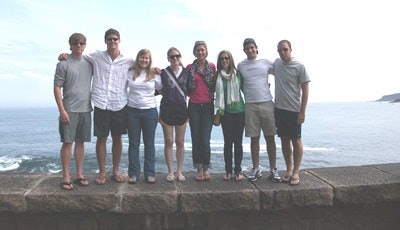 Julianna Kurpis, a Trinity University junior majoring in environmental studies and history, spent fall 2014 in Tanzania as part of the School for International Training Study Abroad program on conservation and political ecology. She stayed with a Tanzanian family, camped in national parks perilously close to lions and hyenas for more than 30 nights and lived with the Masai, an African people who inhabit Kenya and northern Tanzania, for four days.
She and her fellow students went on a safari and studied habits of animals in the park, including their feeding and mating behavior. They collected data on animal behavior, sometimes for days at a time; they learned how to track animals and identify them by their excrement.
Kurpis also worked on an independent research project. For three weeks, she studied changes in plant communities under different levels of canopy cover in a protected forest reserve in the mountains. Each day, she says, she walked through the forest with her guide setting up 10 feet by 10 feet plots and noting the composition and percentage coverage of plants and the heights and species of trees. She also estimated the density of the canopy.
"After collecting my data, I did some statistics and found that canopy cover greatly influences the composition and structure of plant communities below it," says Kurpis, who aspires to work for a non-governmental organization some day.
Study abroad trends
Kurpis is part of a steady but relatively recent trend in study abroad programs. Students majoring in science, technology, engineering and math (STEM) disciplines are driving the growth in Americans studying abroad.
For the first time, STEM majors outnumber study abroad students in other major fields. According to the Institute of International Education, in 2012-13, STEM students accounted for 23 percent of study abroad students, followed by social science majors (22 percent) and business majors (20 percent).
Over the last 15 years, more STEM majors have been traveling abroad to study for a few weeks, a semester or even a whole year. Much of this growth is driven by awareness by students, faculty and college administrators of the academic and potential career benefits of studying or conducting internships abroad. Many STEM programs have also become increasingly flexible, in some cases providing short-term study abroad opportunities that can be woven into the curriculum.
Dr. Dana Elzey, an associate professor of materials science and engineering at the University of Virginia (UVA), says much of this trend is driven by globalization.
"It is increasingly recognized in industry and academia that engineers no longer design products and services for their home [domestic] market alone, but design and solve problems in an internationalized marketplace," says Elzey. "­The organizations hiring engineers are increasingly multinational and seek graduates with cross-cultural experience."
He says that, at institutions such as UVA and a number of other engineering schools, there is an increasing recognition that the challenges faced by this planet are interconnected and require communication and collaboration across cultural boundaries in order to address them. Elzey notes much of this desire to increase global awareness is driven by undergraduates.
"There is a largely grassroots movement among undergraduates to roll up their sleeves and apply what they are learning as engineering students to improve the quality of life for people in underdeveloped communities, largely in Central and South America and sub-Saharan Africa," he says.
David Fougere, executive vice president of study abroad for the Council on International Educational Exchange in Portland, Maine, says, "STEM students from our [350] sending institutions are exposed to an international focus long before they do study abroad. The study abroad experience allows you to put research opportunities in an international or local context. It's really about place-based learning on the STEM side. In Costa Rica, we have students going to a cloud forest to study plants and animals and they have research projects that faculty work on."
Dr. Neil Weissman, provost and dean of the college at Dickinson College, where more than 40 percent of graduating STEM seniors participate in study abroad programs, says spending some time overseas gives students a stronger "appreciation of the international nature of the scientific community, research and graduate study opportunities, and an enhanced ability to communicate across cultures."
At Dickinson, where many science faculty include students in their research, participation by STEM students has increased from 11 percent in 2007 to 44 percent now, says Weissman, adding that the study abroad work regularly informs what goes on in the classroom. He says one Dickinson student, a chemistry major who participated in field research with an earth sciences professor in Guadeloupe last summer, will be presenting the results of her research at a conference in the Czech Republic this summer. Weissman says the student also plans to pursue graduate studies in biogeochemistry after a gap year.
Solutions to challenges
Some STEM study abroad programs are designed to help students create solutions to challenges.
At The University of Alabama, marketing professor Rob Morgan will be taking 14 students to India this summer. All of the students are undergraduate STEM majors enrolled in a graduate business degree program. In India, they will spend time in rural areas talking to villagers, identifying challenges the villagers face and formulating solutions.
"Instead of taking products there, they will develop products that fit those needs after finding out what their needs are," says Morgan, executive director of Innovation Initiatives in the Culverhouse College of Commerce. "They will find out whether the needs are nutrition or health or clean water or energy or hygiene. They want to develop products that might work for them. When they return, they will spend time developing the products."
The students will earn three credit hours. Rising seniors' credits will count toward their MBA.
A team of students from The University of Alabama's College of Engineering are taken to Spain for five weeks each summer, says Dr. Clark Midkiff, interim department head of mechanical engineering at The University of Alabama.
The students live with host families and take three courses: two in Spanish and one in social and behavioral science. The latter course is on sustainability and has an engineering focus.
Midkiff says the university's College of Engineering offers ample study abroad opportunities, including an intensive chemical engineering lab that they can take in Denmark; a mechanical engineering semester abroad program in Turin, Italy; and civil engineering programs in Austria and Ireland. There is also a crash course offered at a school in Germany; students have the opportunity to intern there with Mercedes-Benz or with a Mercedes-Benz supplier.
Competitive in the marketplace
Many university officials say study abroad programs can help make STEM students more competitive in the marketplace.
"More and more of the companies that traditionally hire students from STEM major[s] realize [they] will be more successful if their employees can work with people from other countries and understand markets from other countries," says Morgan.
Adds Weissman: "At a time when we need scientists who can communicate about their work with other citizens at home and abroad, the last point is particularly important."
Midkiff says these short stints abroad can further mold the minds of these students and significantly alter their perspectives.
"Most American college students have not been out of the U.S. other than Cancun or Canada," he says. "When they go and live with other people [this] really allows them [to] see the world and America from a different perspective and makes them appreciative. If there's language involved, it makes them more competitive and more aware of other cultures."
Kurpis says her experience in Tanzania made her rethink her views on some subjects, including conservation.
"Conservation can mean different things to different people, especially in other countries," she says. "I learned a lot about the pros and cons of conservation, which has influenced how I think about environmental issues. Before going on this program I always thought of conservation as positive. On the program I learned that setting up national parks in the name of conservation can negatively impact the people living there; traditional hunting grounds and watering holes for livestock become off limits and people are forced to relocate.
"Culture plays an important role in how people view science, technology, engineering and math. It is important to understand these cultural differences, especially in light of globalization."