WASHINGTON — Irrespective of who becomes the next President of the United States, he or she should name a science advisor right away in order to make sure that sound science is reflected throughout the next Administration's policies, several scholars stressed Wednesday.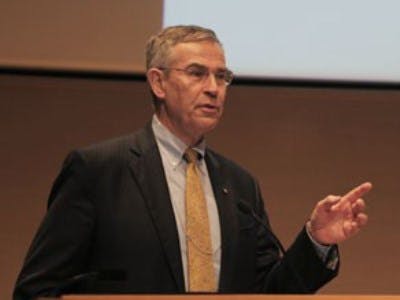 "It's not just another government appointment," said Rush Holt, chief executive officer at the American Association for the Advancement of Science and a former U.S. congressman from New Jersey.
"Science and technology are indeed the engine for development and growth here in this country and around the world, and it very much affects the quality of Americans," Holt said.
Holt said the appointment of the next director of the White House Office of Science and Technology Policy, or OSTP, should not be seen as a mere "figurehead" position for science and technology. Rather, he said, the position should be seen as one who heads an agency that cuts across federal agencies and touches on a variety of other pressing issues that are not necessarily seen as science, such as justice, diplomacy and social welfare.
Deborah Wince-Smith, president and CEO of the U.S. Council on Competitiveness and an assistant director of OSTP under President Ronald Reagan, said: "The OSTP has a pivotal role to play in not just coordinating and creating the policies and objectives of our government's role in all these issues but also going out and galvanizing the private sector to come together in really large scale public-private partnerships to advance these issues because the government alone cannot do these things."
From biometrics to gene editing, Wince-Smith said, "all of that comes together in a perfect storm of opportunity and there's no place in government — with the exception of OSPT — that can look at all those things in a cross-cutting way and work with other agencies to figure out what are our priorities and how do we accelerate that on large scale."
As a practical example as to why an early appointment of an OSPT director is crucial, Holt noted that when President Barack Obama was putting together the $800 billion stimulus bill of 2009 early in his presidency, it included $21.5 billion for science and research spending thanks to recommendations that came by way of current OSTP director John P. Holdren.
"This is the difference of early versus not early appointment," Holt said.
"If the president shows everyone that this advisor is going to be kept close, run an office that has the leadership the access, the prestige, the resources, the structure, to integrate science and technology in the decision making in the administration, others will notice," Holt said.
Holt and Wince-Smith made their remarks at the National Press Club Wednesday during an event organized by Baker Institute for Public Policy's Science and Technology Policy Program at Rice University.
The institute released a series of recommendations for the next president as it relates to OSTP.
Those recommendations include for the next president to consult with the science advisor to "quickly appoint a diverse membership" for the President's Council of Advisors for Science and Technology, known as PCAST.
"Early in the administration, the President should establish a practice of regularly meeting with PCAST and charging PCAST to carry out studies and issue reports on topics that the president considers particularly important to the nation," states a Baker Institute document that enumerates the recommendations.
The recommendations largely uphold the status quo and steer clear of making detailed recommendations on contentious  issues, such as climate change, or whether and when to send humans to Mars, although both climate change and space exploration are mentioned in the document.
Neal F. Lane, senior fellow in science and technology policy at the Baker Institute, said the document purposefully avoids specific recommendations.
"It was just too hard and we found that our reviewers said it was probably a mistake to go down that road too far," Lane said.
Lane also declined to address any specific concerns associated with the two major White House candidates — billionaire businessman and Republican nominee Donald Trump and former secretary of state Hillary Clinton, the Democratic nominee — including divergent responses that the candidates gave recently to ScienceDebate.org.
For instance, Trump — addressing climate change — said there is "still much that needs to be investigated in the field of 'climate change'" — putting quotation marks around the term to question its validity — and that perhaps "our limited financial resources" should be spent on other things, such as clean water, eliminating malaria or increasing food production among a growing world population.
Clinton, on the other hand, indicated that climate change is "an urgent threat and a defining challenge of our time and its impacts are already being felt at home and around the world."
Lane would only say that the candidates gave different answers and declined to offer a critique of their responses.
Jamaal Abdul-Alim can be reached at dcwriter360@yahoo.com or follow him on Twitter @dcwriter360.