Saint Peter's University has signed an agreement with Ross University School of Medicine with the goal of increasing diversity in the U.S. physician workforce.
Over the past decade, the Jesuit institution in New Jersey has seen the enrollment of Hispanic students go from approximately 25 percent of the undergraduate student population to nearly 50 percent. Designated a Hispanic serving institution (HSI) for more than two decades, the university has introduced support services through its Center for English Language Acquisition that have helped nearly close the achievement gap between Hispanic and White students.
Dr. Frederick Bonato, provost and vice president for academic affairs, said associate vice president for academic affairs Dr. Mildred Mihlon met with representatives of Ross University School of Medicine at a meeting of the Hispanic Association of Colleges and Universities (HACU). After several months of discussions, an agreement was signed earlier this month.
Saint Peter's has put a great emphasis on the sciences, and there are nearly 400 biology majors, a significant number given the university has fewer than 3,000 undergraduate students. Many of the students pursuing science majors have expressed an interest in attending medical school, so forging pathways to facilitate the process seemed a natural fit.
"Medical school is very competitive, and some students who are first-generation college students find standardized testing to be somewhat difficult," said Bonato.
"Speaking to some of our professors, they say we have a lot of students who just miss the admissions mark in terms of the MCATs," he said, referring to the Medical College Admissions Test.
"There is interest and desire and also, we think, the ability," Bonato added. "We have Saint Peter's graduates who have gone to Ross in the past, and they're good doctors. That's an indicator of the success we can have."
The university has a health careers adviser who is a faculty member in the biology department. Plans are to increase the number of advisers if the agreement with Ross is successful, which Bonato expects it to be.
A significant resource for students at Saint Peter's is the STEM Engagement Center, now in its fourth year, funded by a Title III HSI STEM grant. There are peer advisers and faculty consultants, research opportunities, academic and career advising, loaner laptop computers and textbook library loans.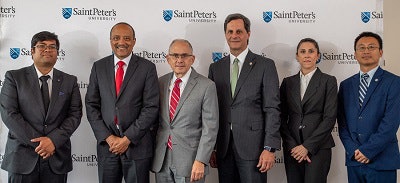 In 2016, Saint Peter's received the National Science Foundation's first Hispanic-serving grant to build STEM internship experiences.
"If students choose to go on this path [toward medical school], the STEM Center is the place where they do engage from year one," said Bonato. "It's been impactful."
The partnership with Ross creates greater awareness of the opportunities available to students wanting to pursue a premed curriculum, Bonato said. "We look for any avenue we can find to reach the students."
Bonato noted that there is also faculty development designed to help instructors be more effective in teaching Hispanic students and helping them succeed.
Through the agreement, qualified Saint Peter's students who earn acceptance into Ross will receive a full-tuition scholarship for their first semester. Additional scholarships will be available after that.
All applicants who meet the criteria for admission will be considered for all available scholarships, with no additional paperwork required.
The main campus for Ross University School of Medicine is in Bridgetown, Barbados, where students will attend their first two years of medical school. After that, they travel to different locations for rotations. Throughout the four years, students will have access to faculty mentors, advisers and support services.
"Medical universities like Ross view ourselves as having a societal obligation," Dr. William F. Owen, Jr., dean and chancellor of Ross, said at the signing event. "We have a commitment to do more than develop good doctors. … The senior-most leaders of Saint Peter's and Ross commit to addressing a correctable lesion in healthcare in America arising from disparate access to culturally congruent health professions."
When Bonato was associate provost for academic affairs at Montclair State University, he co-led a project to develop that university's School of Nursing. He saw there was a nursing shortage and sought to address it.
Now, he sees a looming shortage of physicians.
"I'm very much into healthcare," said Bonato, who sits on the council of the Aerospace Medical Association and is editor-in-chief of Aerospace Medicine and Human Performance. "I'm also interested in changes such as this agreement, which will provide access to students who maybe haven't had it before. Also, a modern approach to education. Ross uses modern technology in its teaching."
Bonato said faculty and administration at Saint Peter's are excited about the opportunities the agreement will create, as it is open to other underrepresented minorities.
"We think it will give some students who previously did not have an opportunity to follow this dream, the opportunity," he said. "It also addresses the extreme shortage of Hispanic physicians. The representation of underrepresented groups in medical school and medical professions does not reflect the general population. We think this will help address that need. There should be more Hispanics in the medical professions."