Armed with an interest in statistics and two earned degrees in psychology, Brittany Boyd was certain that she wanted to pursue a Ph.D. in psychometrics.
In the process of searching for a doctoral program, Boyd found Morgan State University, the only historically Black college and university (HBCU) to offer a graduate program in psychometrics.
She was intrigued.
"The campus is great," said Boyd, a fourth-year doctoral student at Morgan State. "Then just the overall draw of an HBCU. I heard from friends that attended HBCUs about the sense of belonging that you feel on campus as well as this built-in mentoring experience that students have. That has definitely been my experience and had a lot do with why I chose Morgan."
Though it may sound like an obscure discipline, simply put, psychometrics—a subfield of psychology—is defined as "the study of mental measurements," according to Dr. Jocelyn Turner-Musa, professor and chairperson of the Department of Psychology at Morgan State.
Additionally, psychometricians "apply their knowledge of statistics and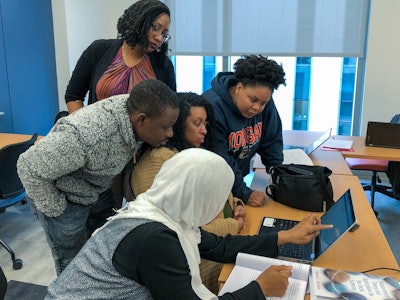 research methodology to design, develop, analyze and interpret tests and assessments and to evaluate programs and interventions," she added.
In 2006, Dr. Earl S. Richardson, then-president of Morgan State University, approached the Educational Testing Service (ETS) for assistance in creating a graduate degree in psychometrics. The program was approved by the Maryland Higher Education Commission and the first student graduated in 2009. The university currently offers both a master's degree and a Ph.D. in psychometrics.
"I think he [Richardson] felt that it was an area of our society where there was a paucity of Black people involved in producing and developing tests," said Dr. Michael T. Nettles, senior vice president and the Edmund W. Gordon Chair for Policy Evaluation and Research at ETS. "And there was a paucity of Black people inside ETS and other testing companies carrying on that work."
Indeed, as organizations like ETS and others look to diversify their talent pool, particularly in the wake of sharp critiques against biases in standardized testing and assessment, they will likely turn to graduates of Morgan's psychometrics program to help produce the next wave of personnel.
While it's a relatively new program, since its establishment, 10 students —including eight women— have graduated from the Ph.D. program and Morgan is a leader in producing the largest number of Black women with a Ph.D. in the field, Turner-Musa reported.
Dr. Lesia Crumpton-Young, provost and senior vice president for academic affairs at Morgan, emphasized that this program has helped to promote an understanding of psychometrics among underrepresented students.
"It feels like we are fulfilling our mission of creating the leaders of tomorrow because we know once these individuals get their Ph.Ds., they are going to go on to either other institutions where they will teach and become part of the professoriate, or they'll go to outstanding research organizations or to even some great companies where they may want to continue to do work in psychometrics," said Crumpton-Young.
International students are among those enrolled in the Ph.D. program, helping to elevate Morgan's standing on the global scale, said Turner-Musa.
"They can take the knowledge that they gained from our program to their home countries," she said. "They are also advertising, if you will, the program and Morgan State University in other parts of the world. And perhaps even strengthening some of the programs that we have established in those countries."
Though timing varies for each student, the master's degree can be completed within two and a half years while the Ph.D. typically takes about five years.
In class, discussions focus on cultural pedagogy and responsiveness.
"Unfortunately, many of the tests and measurements that have been developed have not really taken into consideration underrepresented populations," said Turner-Musa. "Some of those measures may be culturally bias or they might not accurately assess the population. You have the potential to make erroneous predictions about those populations. Our program considers that and we look at the role that culture plays into the development and administration of accurate measures."
Those criticisms have long been leveled against testing organizations who design the SAT, ACT and GRE. In an op-ed published in The Hechinger Report last month, ETS's President and CEO Dr. Walt MacDonald, defended assessment but said that colleges and universities need to take a more holistic approach in evaluating applicants.
"We believe every student is so much more than a test score. In graduate admissions, we think GRE scores should be included as an objective source of information among multiple criteria," MacDonald wrote. "A holistic approach ensures balances to the limitations of any single measure of knowledge, skills or abilities. This is because how scores are used is as important as the scores themselves."
Additionally, outside the classroom, Morgan's program offers experiential learning opportunities. For example, the Center for Predictive Analysis (CPA) was established in 2016 to allow psychometrics students to utilize their skills through research projects. Students recently partnered with Maryland Public Television and Maryland Behavioral Health Administration to look at whether media messages have curbed the opioid crisis in Maryland.
"The projects that our psychometrics students have the opportunity to work on are very diverse," said Turner-Musa. "Our program has definitely grown overtime with regards to the opportunity to do that fine work."
Beyond psychometrics, Morgan State is also looking to expand its science, technology, engineering and mathematics (STEM) degree programs.
The school's Board of Regents recently approved new programs including a Ph.D. in secure embedded systems, Bachelor of Science degree in mechatronics engineering and a (3+2) year dual bachelor of science degree in either aeronautics and astronautics from Purdue University or civil engineering or engineering physics from Morgan State.
To become official, final approval must be given by the Maryland Higher Education Commission. The programs could be implemented as early as next fall.
"You will just find that with Morgan, we are constantly working to be at the edge of what we call that next frontier and preparing our students for industries of the future," said Crumpton-Young.
Sarah Wood can be reached at swood@diverseeducation.com.