WASHINGTON — Diverse: Issues In Higher Education hosted its 14th annual presentation of the Dr. John Hope Franklin Award on Monday evening at the national meeting of the American Council of Education.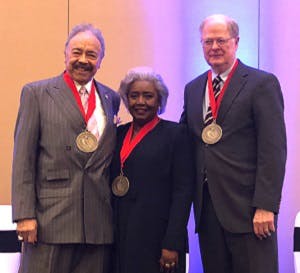 The three award recipients — Drs. Darlene Clark Hine, James J. Duderstadt and William R. Harvey — embody the trailblazing spirit of the late Dr. Franklin, a historian, writer, educator and humanitarian who demonstrated a high standard of excellence, leadership and service in higher education. 
"As leaders, we have to be sincere in our desire to create inclusive environments where students, faculty and staff are given an opportunity to flourish and succeed," said ACE president Ted Mitchell. "This isn't something that just happens. It takes courage and requires us to commit ourselves daily to address the opportunities and challenges that exist." 
Mitchell noted that Franklin was committed to such work throughout his lifetime. 
Upon receiving their awards onstage during an evening reception, Hine, Duderstadt and Harvey made remarks that recalled the significant impact Franklin had on their lives and academic careers. 
Duderstadt, president emeritus and professor of science and engineering at the University of Michigan, shared that he has seen an "erosion" in leadership at the national level that demands that education leaders engage in the work of racial justice and diversity in the tradition of Franklin. 
"This kind of progress is determined not simply by commitment and creativity, but this is an effort that has to be sustained," he said. "It demands an even greater effort to continue the spirit of John Hope Franklin." 
Harvey, who is celebrating his 40 year anniversary as president of Hampton University, said Franklin was someone thathe admired and respected and who inspired him to lecture and write. 
"My love for history drew me to his scholarly endeavors," said Harvey. "I shall always cherish the quality times that we spent together talking about Fisk, government and life." 
Hine, a founding scholar of Black women's history and the John A. Hannah Distinguished Professor of History at Michigan State University, recalled that over a span of 40 years, Franklin encouraged her with humor, grace and the occasional chiding for things she may have left out of her work. 
"I am so pleased," she said, "to accept this red ribbon medallion in my green and black suit in honor of the eternal and ongoing quest that Dr. King, Dr. Woodson and Dr. Franklin believed in, and that is we should use all of our power — all of our talents — to forever fight to extend the domain of freedom." 
Tiffany Pennamon can be reached at tpennamon@diverseeducation.com. You can follow her on Twitter @tiffanypennamon.